Which of the Caribbean Carnivals Should I Choose?
Thanks for stopping by and welcome! If you're confused about which Caribbean Carnival is best suited to you, then you're in the right place. Watch this video below as I talk through 3 things to consider!
A side note: We forgot to mention the location of Ultimate Un-Carnival in the webinar (doh!) After you watch the video, keep reading for more…
Click here to watch de video (a new window will open in YouTube)
And now for dat special announcement…
If you've been patiently waiting for the location of Ultimate Un-Carnival, your break in between Carnivals, the time is now!
The location of the next Ultimate Un-Carnival is…ANTIGUA!!
We're so excited to take you to this destination in July 2024. Package details will be live on our website on Nov 22 and you'll be able to grab your spot on Nov 24 (yep, that's Black Friday to those of you in the US). Gather yuh crew and come along for the fun in Antigua!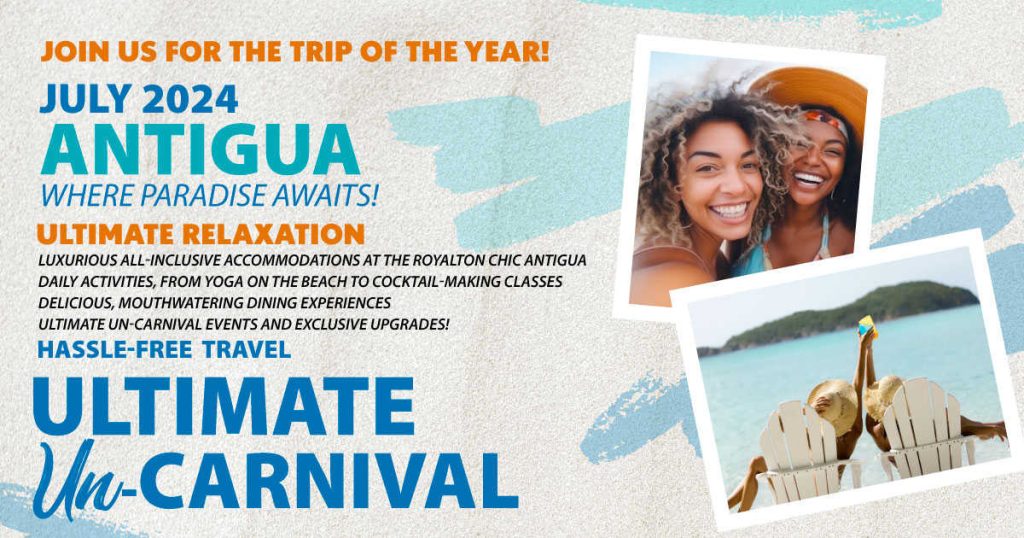 Now over to you:
After watching the video, what questions do you have about Caribbean Carnivals? Comment below and we'll answer them for you!
Don't forget: on sale right now are our Grenada Spicemas, Barbados Crop Over and St. Lucia Carnival packages. All you have to do is pack and show up; we'll do de rest!
If Trinidad Carnival is for you, then click here and get on our mailing list to be notified of the next Ultimate Trinidad Carnival.
Let's get you to one of the amazing Caribbean Carnivals!
Til de next lime,
Your Events by Ashé Team
About Us: Events by Ashé is a company that provides unique and life-changing Caribbean Experiences and we're all passionate about the Carnival lifestyle. The Founders, Esha and Tarik, even met during Trinidad Carnival back in 2006! We're so passionate about Carnival that we've created Ultimate Trinidad Carnival, Ultimate Spicemas, Ultimate St. Lucia Carnival and Ultimate Bago Carnival to share these experiences with hundreds of clients around the world. Check out more below or visit our website by
clicking here
!
You may also like: