My June faves
Hey, it's your girl Esha here and it's time for another edition of my faves this month! Honestly, I just have to say that June was a bit of a blur for me. The fam and I did so much travel – to Hilton Head, SC, which was beautiful to visit, to Toronto, Canada for the Canadian launch of my book, Carnivalista Lifestyle AND I'll be leaving for New York tomorrow to visit with friends and family. Phew!
Anywhooo, enough about me, let's get on with the June faves!
Let Loose by Tian Winter
If you've been following me for a while, you know it all starts with the music for me! This is one of the newer soca releases that I have in heavy rotation. The song is on the Liberta Riddim. The old time feel of the lyrics remind me of songs released in the 90's by Ronnie McIntosh. In fact, when I heard the song, I had to stop what I was doing and see who the singer was! Love, love, love the throwback feel of this riddim. Also of notable mention on this riddim is one of my fave artists, Ricardo Dru. Check it out below!
SheaMoisture Coconut & Hibiscus Curl Enhancing Smoothie
After getting so many questions about what I use on my 2 strand twists to make them look so cute (lol), I thought I would include the product that my hair cannot live without. After washing my hair, I towel dry it and just dab a little in each section of hair before I comb and twist it up! I usually leave my hair in twists for a few days and then release the curls. To upkeep for a few more days, I'll just dab some coconut oil on it daily. Easy- peasy! And to get an example of what it looks like, see the photo of my book cover below 🙂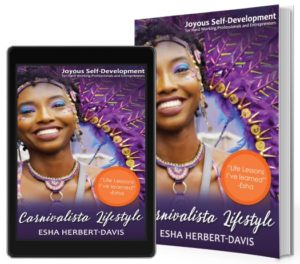 Mum's Jamaican Restaurant
I had yet (another craving) for Jamaican food, so I headed to Mum's Jamaican Restaurant in east Raleigh. The ackee and saltfish was delicious and I also picked up some oxtail for hubby and little Kwame since he loves them! If you're visiting Raleigh or you're already in the Triangle area, check them out.
M7168 – McCall's swimsuit pattern
Soooo, what happened was – after realizing that Ultimate Crop Over is almost here, I realized that I didn't have an outfit for the infamous Limerz Cruise! When I checked my email, I saw that McCall's had just released their Summer collection of patterns. That's when I came across this beauty of a pattern. It has so many options to make a 2-piece swimsuit, and I can't wait to make my outfit!
Well, that's it for my June faves! What were you loving this month?
Til de next lime,
Esha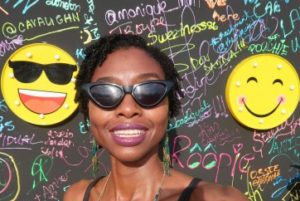 About Esha: As a travel curator and event planner with over 20 years of experience (whose been to 5 out of the 7 continents), Esha's helped professional women who don't have the time, energy, or resources to plan their own vacations so they can travel and enjoy unique, life-changing Caribbean experiences. Visit her website here or click the links below to learn more!
You may also like: