Got a question?  Ask away!
Good day!  It's your girl Esha here.  Thanks for stopping by our blog.
I got inspired recently by all of the Frequently Asked Questions videos that I've been seeing on YouTube and I thought, "Hmmm, that would be fun to do!"  And here we are…
Do you have any questions for me?  I mean, there's lots you could ask, such as:
What made you want to write your book?  How did you write your book?
How did you get into Trinidad Carnival and start a business around it?
How can I get to Trinidad Carnival?  There's so much confusing information out there.
Why did you start your business?
What's your typical day like?
What's it like being a mompreneur?
How do you get clients?
Where do you get your blog ideas from to write two times every – single – week?
Tell me about your natural hair journey.  What products do you use?
How did you become a Carnivalista?
Inspired?  Leave your question in the comments below!  Once I collect all questions, I'll film a little video answering your question and post it in a couple of weeks.
Looking forward to seeing what you ask…and as always…
Til de next lime,
Esha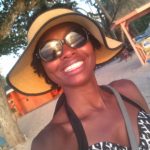 About Esha:  As an event planner with over 20 years of experience (whose been to 5 out of the 7 continents), Esha's helped professional women who don't have the time, energy, or resources to plan their own vacations so they can travel and enjoy unique, life-changing Caribbean experiences. Click the links below to learn more!
Or call us at (919) 697-8772
You may also like: