My latest costume obsessions ~ Trinidad Carnival 2020
Hey there, it's your girl Esha.  I appreciate you dropping by!
And this week it's all about my latest costume obsessions for the Trinidad Carnival 2020 season.  I've been sitting on this blog for a while, to be honest; things have been pretty busy!  Between Ultimate Crop Over in August, Eat, Dance, Travel: Jamaica coming up in October and our Ultimate Trinidad Carnival 9×9 Promotion happening right now, *phew* it feels wonderful to get back to some good ole costume dreaming and obsessing (lol)!
In case you didn't know, we're an official YUMA Partner!  Whooo hooo!  This partnership is very exciting for us since we've worked exclusively with YUMA for the past 9 years.  Our clients have had nothing but great Carnival experiences as Yumans and we expect that 2020 will be no different.
On that note, on wit de costume obsessin'!
Pandemonium Midline
Okay, so if you followed my Carnival trips this year, you know that my costumes for Trinidad Carnival, Jamaica Carnival and Barbados Carnival all had some kind of golden colour in them!  Well, I'm switching it up in 2020 with Pandemonium.  When I first saw this costume, I literally said, "YES!  This is the one!"  I was so fixated that I couldn't decide on any other choices without a lot of further consideration.  Yep, I was that fixated!  Marie Collette (@_mariecollette_) outdid herself with this design!
I LOVE the fringe type detail on the front of this costume.  I can already see it glistening and catching the light of the sun!  And yes, I got a backpack (sigh).  This one will be a lot more managemable that my Lemonade backpack from Trinidad Carnival this year though.  It's more like the size of my Vanity backpack from a couple of years ago and that one actually made it home with me instead of ending up on someone's fence (heh, heh).
Mimosa monokini with small backpack
Although as I mentioned above, my desire began and ended with my Pandemonium costume (grin), I have decided not to end this blog and continue going through a couple of my other faves.  Bring on Mimosa…put aside that it's named after 1 of my fave drinks, the colour combo on this Mariange Bovell x Keisha Als collab (@marieangebovell and @keishals) is simply stunning (copper, yes please?)
This would be the third monokini costume for me this year (if I got this one), but I'd do it anyway!  It has a very manageable backpack in any case, so I think any woman would be comfortable with this selection.  However, if you booked with us – Ultimate Trinidad Carnival – the size of your backpack wouldn't matter since we offer backpack pickup once you cross the Socadrome stage…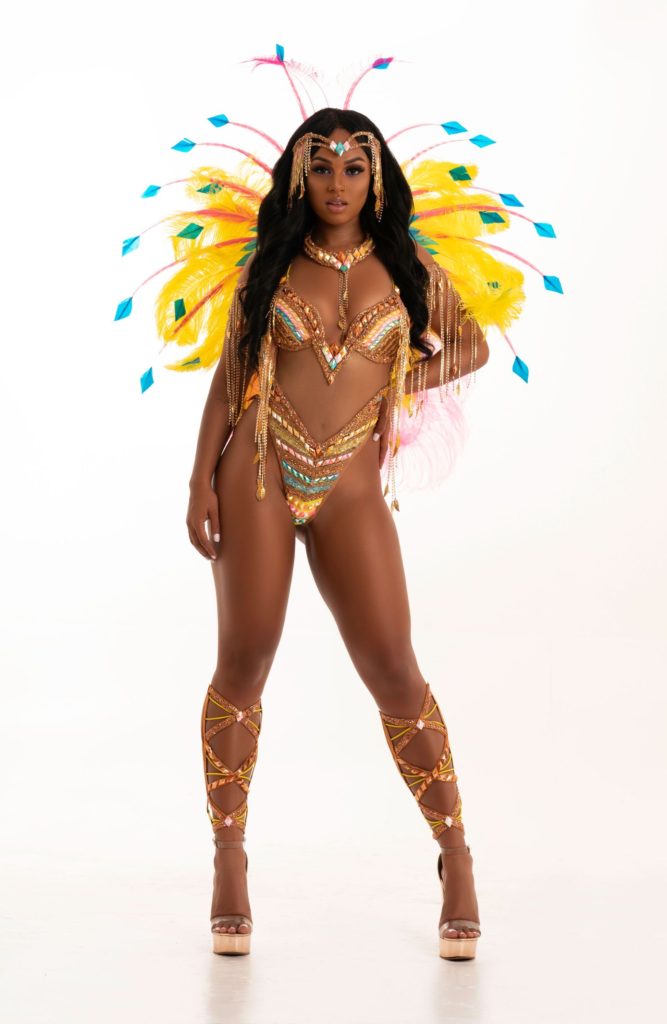 Razzle Dazzle Midline
David Dewer (@daviddewer) does it again!  This costume doesn't disappoint.  This colour combo will be flattering to a wide range of skin tones and the dangling sequins will catch the sun beautifully!  The backpack on this selection is another manageable one for those of you wanting to get on bad and still look hot (grin).
And for the ladies who want more coverage, there is a really cute pantikini option.  David introduced the pantikini option with his Thriller design in 2019 and the feedback from one of our clients is that it was very comfortable and easy to wear.  It also adjusts much more easily than a monokini.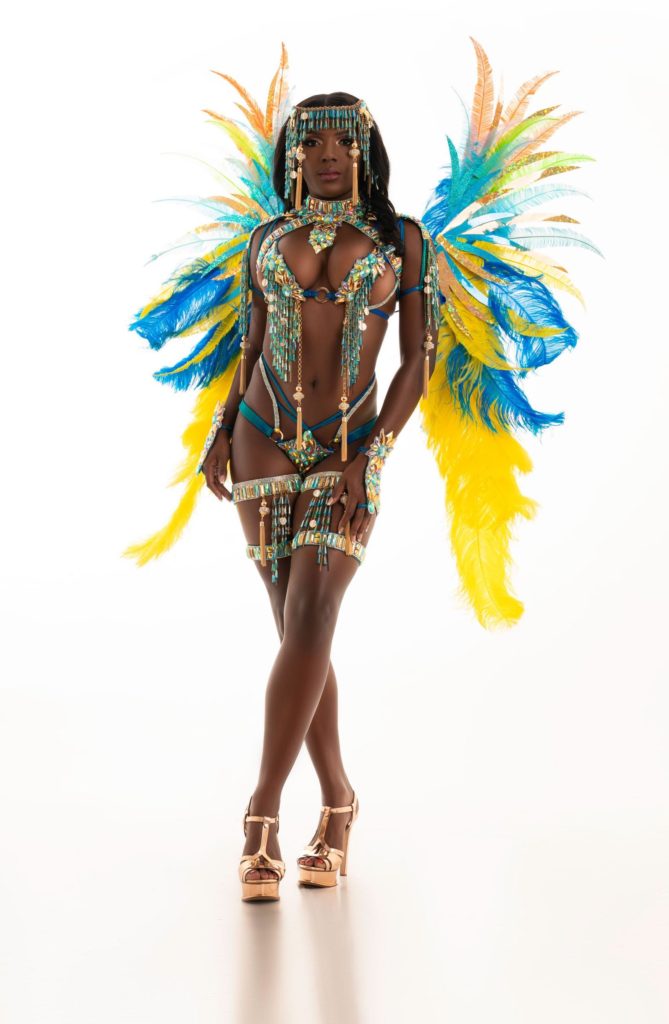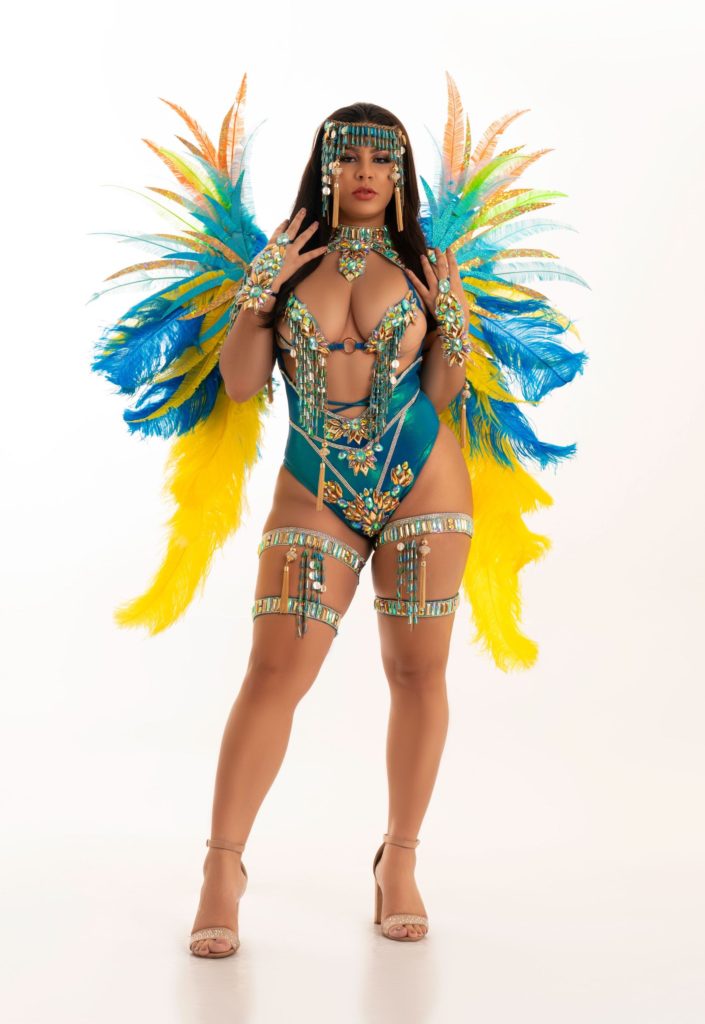 That's it!  Those are my top 3 costume obsessions for Trinidad Carnival 2020.
If any of these costumes got you wanting to learn more about going with us to Trinidad Carnival next time click here to learn more.
Up next: my September faves, which is my monthly round up of things I'm loving in music, travel and other obsessions!  Stay tuned!
Til de next lime,
Esha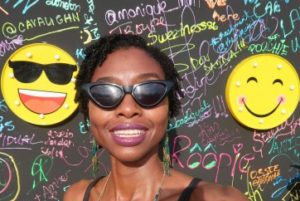 About Esha:  As a travel curator and event planner with over 20 years of experience (whose been to 5 out of the 7 continents), Esha's helped professional women who don't have the time, energy, or resources to plan their own vacations so they can travel and enjoy unique, life-changing Caribbean experiences. Visit our website or click the links below to learn more!
  You may also like: