Ultimate Trinidad Carnival 2020 LIVE!
Hello, thanks so much for stopping by.  It's your girl Esha here and although I've been back from our 9th annual Ultimate Trinidad Carnival 2020 trip for a bit, I'm JUST getting around to sharing my Trinidad and Tobago reviews with you.
And I'm switching it up quite a bit!  In case you haven't been following us on Facebook, for the 2 weeks that I was in Trinidad and Tobago I filmed Facebook Lives every single day to give our followers the live experience of Trinidad Carnival from the comfort of their homes…
Yep, I had so much fun making the videos and it was EPIC!
And now, I'm sharing them all with you.  I've created an Ultimate Trinidad Carnival 2020 Live playlist for you to check out.  If you were always wondering what Trinidad Carnival is about, curious about what really happens behind the scenes, want to watch Trinidad and Tobago reviews of events and see first hand what we really do for our UTC clients, then this is your chance!
Click here to check out our Ultimate Trinidad Carnival 2020 Live playlist!
Up next
My recap of our Ultimate Trinidad Carnival 2020 trip.  I have so much to tell you, it might be a 3-part blog (lol)!
And, in the latest news, we skipped over Ultimate Trinidad Carnival 2021 and 2022 because (sigh, well you know why) and our 2023 packages are already sold out!
What???
Yep…if you want to have the amazing experience that I show you in our UTC 2020 live videos, then you better visit our website to get on our waiting list!  Click here to do that now.
Stay tuned…
Til de next lime,
Esha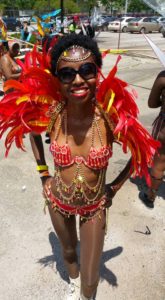 About Esha:  As a travel curator and event planner with over 20 years of experience (whose been to 5 out of the 7 continents), Esha's helped professional women who don't have the time, energy, or resources to plan their own vacations so they can travel and enjoy unique, life-changing Caribbean experiences. Visit our website or click the links below to learn more!
 You may also like: