Finding true love in 2005…
Hey, it's your girl Esha here and firstly, I hope you're well and safe wherever you are in your part of the world.  This week, I'm taking you back to 2005 and what my journey was to finding true love during that time.
So, what was happening for me in 2005?
I had just broken off a 3 year long relationship, had received notification that I would be laid off from my job and was preparing to start all over again in these 2 major areas of my life.
What did I do first?
I'm sure some of you would say, "Did you start looking for a new job?" or even, "Did you complete your online dating profile?" but what I did was even deeper than that.
I decided to take a look inside my head and see what was going on in there!  I realized that I was holding on to and repeating some myths that were jacking up my love life.
You know what myths I'm talking about:
"There are no good men out there."
"I have more of a chance of getting hit by a bus than getting married."
"I'm too independent, harsh, [insert word here] _______ for someone to love me."
These were just a few of the myths that were holding me back from love.  In order for me to find true love, I had to get rid of these myths first.  And that's what I did.
Then, during the latter half of 2005, men seemingly came out of nowhere!
I started dating and then in February of 2006 at Trinidad Carnival, I met my now husband, Tarik.  Coincidence?  I think not.
Check out this video below for more!
If you want to learn the 3 myths that you need to reject to find true love, even though the live webinar has passed, you can register for my latest event – Yes, it's possible: 3 tips to find love during COVID.  As a part of your registration, you'll get access to the recording of this webinar.  Click here to find out how to join my next event!
Til de next lime,
Esha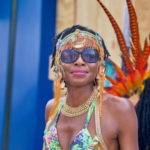 About Esha:  As an event planner with over 20 years of experience (whose been to 5 out of the 7 continents), Esha's helped professional women who don't have the time, energy, or resources to plan their own vacations so they can travel and enjoy unique, life-changing Caribbean experiences. Click the links below to learn more!
Or call us at (919) 697-8772
You may also like: