Our travel list – May edition
We're taking you travel dreaming with us!  Our May travel list is now up.  And yes, we cannot wait to dance in somebody's carnival!  Hint: it'll be Trinidad Carnival in 9 months 🙂
On the list, be sure to check out our stay-at-home offerings.  You can have a little joy right at home until we can get outside again.  We're right here with you.
Here's what's coming up:
From bachelorette to in love: 3 myths to reject and attract love into your life (encore presentation due to popular demand!)
The number 1 question that Esha has gotten over the years has been, "How did you meet your husband at Trinidad Carnival?" In this free webinar, Esha shares the 3 myths that she rejected to help her find love and how you can do the same TODAY.
The first webinar was sold out!  You don't want to miss this special encore presentation.
Thursday May 14, 2020 at 12:30 pm EST…did we forget to mention it's free?
Learn to sell your book!
You've written your book, now what?  You need to sell it, of course!
Led by Esha, international best selling author, at the end of this webinar, you will know:

How to overcome the fear of selling
How to create a marketing strategy
How to consistently sell your book and make money

Thursday May 14, 2020 at 8:30 pm EST
This workshop is ONLY $19.99 for a lifetime of passive income
Spaces are limited to the first 20 participants, so sign up today!
Carnivalista In Love course
Carnivalista eats and soca beats
Since summer Carnivals are out of the question, we've created a course that delivers the Carnival experience to you at home!
With soca playlists and soca love sessions, costume dreaming, fete outfit recommendations (so you're ready when it's time to party), Caribbean website, TV and YouTube recommendations, cook-alongs, recipes and so much more, you won't want to miss getting your Carnival fix this summer.
Coming in June 2020!
Ultimate Trinidad Carnival 2021
Your fully hosted Trinidad Carnival experience awaits!  Ultimate Trinidad Carnival is the most popular experience on our travel list.  With your package purchase, all you need to do is book your flight and pack.  Leave the rest to us!
5-night Premium Experience: Friday Feb 12 to Wednesday Feb 17, 2021
There are only 5 rooms left!
And…only 4 Early Feter Specials are left.  Get 9 Gifts with your Early Feter Special booking by May 31 AND save over $400 off your entire package, including Upgrades.
Visit our website for package details and pricing – click here.
Ultimate Crop Over 2021 (postponed from 2020)
Crop Over, aka Barbados' amazing Carnival, aka "de sweetest summer festival" is on our travel list and is ready for you!  Experience a taste of the good life with a fine dining experience, partying on the beautiful Caribbean Sea, being a VIP in full costume at the Kadooment Parade and getting dutty at Foreday Morning.  The bonus?  You don't have to plan any of it!
5-night Premium Experience: Thursday July 30 to Tuesday Aug 4, 2021
Easy Payment Plan is available from June 2020 to May 2021.  Plus if you book an Early Bird Special, you'll get a FREE frontline costume upgrade and save 10% off your package and any other Upgrades.
Registration is now open!  Grab your spot before it's gone.
 Eat, Dance, Travel: Jamaica
Postponed to October 2021
Join us in beautiful Jamaica to eat, dance and travel your way through this wonderful island.  Even if you've been there before, we guarantee you've never seen it like this!  We'll handle all of the coordination; you show up at the airport.
More details to come!
If you're not on our mailing list and want to know when any of our events launch, click here to sign up.
Hope you enjoyed travel dreaming with us by checking out our travel list!
Til de next lime,
Esha and Tarik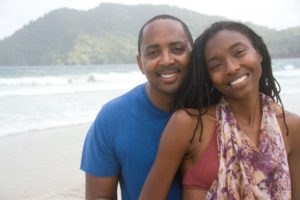 About Esha and Tarik:  Founders of Events by Ashé, a company that provides unique and life-changing Caribbean Experiences, Esha and Tarik are passionate about the Carnival lifestyle.  They even met during Trinidad Carnival back in 2006!  They are so passionate about Carnival that they created Ultimate Trinidad Carnival and Ultimate Crop Over to share these experiences with hundreds of clients around the world.  Click the links below to learn more!
Or call us at (919) 697-8772
You may also like: