Friday Facebook Live: about staycations
In need of a staycation?  Not sure what a staycation is?  Need some staycation ideas?  Then you're in the right place.
Thanks for visiting our blog, Carnivalista Lifestyle!  It's your girl Esha here.  I record a Facebook Live every Friday and today I focused on staycations.  Since many of us aren't feeling safe enough to travel, a staycation seems to be the only answer right now.
Watch the recording below and see some resources (like staycation ideas) linked below the video.  Enjoy!
What's a staycation?
A staycation is exactly what the word says; it's a vacation at home where you stay.  Now that being said, some people do a stay-cay in different ways.
Some stay at home, some go to a local hotel or vacation rental not far from home.  In general, the location is really meant to be near your home, so you don't travel far to get there.
Staycation tips
Preparation is key.  I know, I know, it's a staycation, but trust me, the more preparation you do, the better your stay-cay will be!

Get childcare for the kids
Clear your schedule (take the time off from work)
Plan your food in advance
You don't have to plan out every minute, but if there are things you really want to do, then set a flexible time of day that you'd like to get it done

Staycation ideas:

Themes are so much fun!  You can have a Caribbean stay-cay and outdoorsy stay-cay
Try choosing a dream destination of yours, do a little research and then incorporate elements into your staycation.  The sky's the limit as far as staycation ideas are concerned!
Feeling overwhelmed already?
Then our Staycation Series can help with that!
Each Staycation is is 2-3 days long, with a mixture of live online activities and lots of me time for you.  I'd love for you to join us at 1 or all.  These events will be a great way to reconnect with friends who don't live near by who you miss seeing and hanging out with.  Make it a girls stay-cay!
Here are the 3 stay-cays we have on the calendar:
October 10-12: Trinidad Carnival Stay-cay.  This is being held on Columbus Day weekend in the US (and Thanksgiving Day weekend in Canada).  A mixture of live online events and Trini Carnival activites you can do on your own, this is going to be our "replacement" for Ultimate Trinidad Carnival in 2021.
November 21-22: Staycations essentials for essential workers is coming.  Many of our clients are essential workers (and we love them)!  So, this is our way of giving back.  So many have been unable to take time off, so this stay-cay will enable them to take time for themselves at home and return to work refreshed and renewed!  There are many planned activities such as yoga, meditation and much more, all designed to refresh the mind and spirit.
Decemeber 12-13: we're taking you back to Barbados with a Barbados Love Stay-cay.  If you've never been to Barbados, you're in for a real treat!  It'll be 2 days of pure Bajan love with food, music and of course beautiful people and scenery of this little island in paradise.
Sounds like fun?
Yes?  These events are all going live on Tuesday Sept 15, so get on our mailing list to grab your spot!  Click here.
Got questions?  Comment below!
Til de next lime,
Esha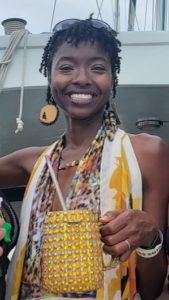 About Esha:  As an event planner with over 20 years of experience (whose been to 5 out of the 7 continents), Esha's helped professional women who don't have the time, energy, or resources to plan their own vacations so they can travel and enjoy unique, life-changing Caribbean experiences. Click the links below to learn more!
Or call us at (919) 697-8772
You may also like: