Ultimate Crop Over 2019 recap ~ part 1
Hey, it's your girl Esha here!  As always, I appreciate you taking the time to check out our blog Carnivalista Lifestyle.  This week it's all about the loooooong overdue Barbados Crop Over 2019 recap.  Little did we know that Crop Over 2020 would not happen, so these days we're looking forward to Crop Over – Barbados 2021!
In case you didn't know, Crop Over is Barbados' amazing Carnival, also dubbed "de sweetest summer festival" and we were there in August!  *sigh* just by writing that I feel like I want to go back already.
So, as I usually do with our Trinidad Carnival recaps, I'll go through the Good, the Better and the Best of Ultimate Crop Over.  Here we go!
The Good – The Aura Experience
The same as we did with Ultimate Crop Over in 2018, once again our costume provider of choice was Aura.  And they did not disappoint with their road experience.  We expect to use them as our costume provider at Crop Over Barbados 2021.
However, before I get to that, I need to be real here.  The costume distribution process was a disaster (and they know this).  There were delays of several of their sections and at least 2 sections weren't available for pickup 2 days (or less) before Kadooment Day (the day of the Crop Over Parade).  All of this impacted the quality of a couple of the sections, but taking into consideration the overall road experience, it all evened out.
Luckily for our Ultimate Crop Over clients, they weren't impacted by this too much since I was the one who made multiple trips to the band house to collect the costumes.  During each trip, I had a few good magazines with me and waited patiently while our costumes were collected by the staff…
With that being said, I'd like to point out that any band can have a year like this.  I've seen it happen at Trinidad Carnival several times and then the following years, it's been like nothing ever happened.  When you're producing something as unpredictable as costumes with feathers, etc. any band can have a bad year and bounce back stronger than ever.  I'm betting that Aura will do the same next year at Crop Over Barbados 2021!
Anywhooo, back to de road experience (which is all that matters anyway in my mind)!  Aura decided to marshal at Warren's, which in my opinion was a good idea and a definite improvement.  It lengthened the parade route for us (yay!), gave a nice little warm up before we got to the judging point and then everything just vibed nicely from there!  We had a few clients who were VIP's and they really, really enjoyed their private truck, with VIP bar and the Lemongrass food truck just for them.
For the rest of us (smile), it was easy to get drinks, get to the bathroom (the bathrooms were very clean for the entire parade) and eye candy was on point.  See dem dey below!

As you can see, our Ultimate Crop Over Ambassador Grace was a very willing model with the Aura eye candy (lol)!  Aura is definitely our choice for Crop Over Barbados 2021 🙂
The Better – Native J'ouvert and the Mount Gay Rum Tour
We decided to try Native J'ouvert for the second year in a row.  I'm a firm believer in supporting local businesses when we curate travel for our clients, so Native J'ouvert is the obvious choice.  The online ordering process was quick and easy!  And because we had a group of J'ouvert packages, it was a cinch to organize delivery to the Hilton Barbados Resort.  The staff were all very responsive and didn't leave me hanging whenever I sent them a question about anything.
The Foreday Morning experience was great in my opinion with a few annoyances.  The positives – great music, awesome people, crazy good vibes, dutty behavior, lots of paint, a bubble machine (yes!) and water hoses.  There were several of our Carnivalistas who were especially ecstatic about the last 2!  Put all of it together and we had a Foreday Morning experience to remember!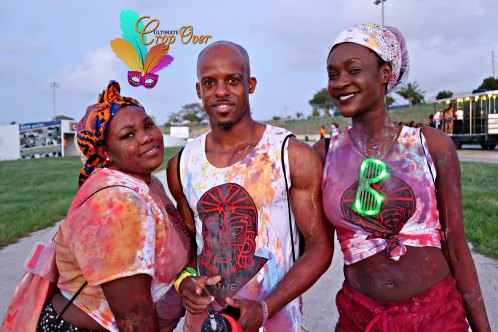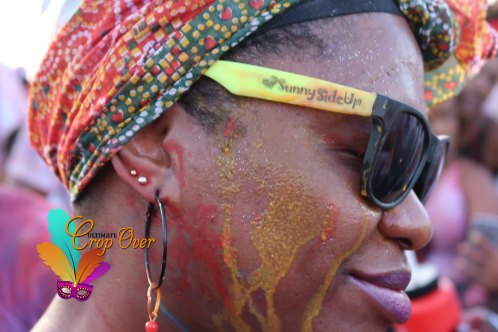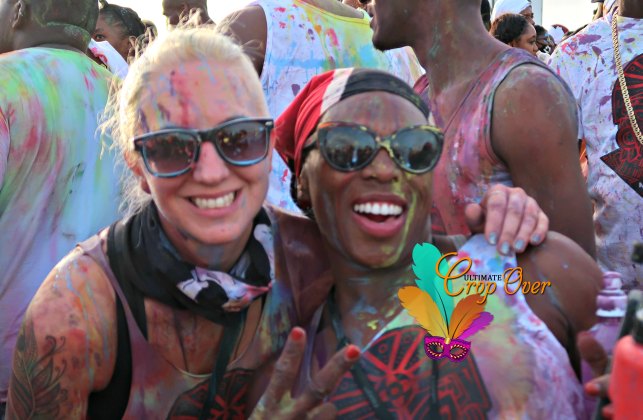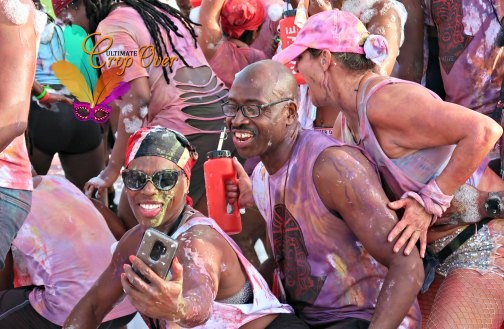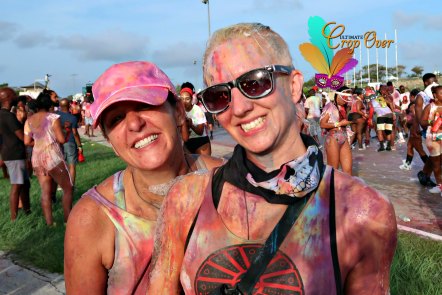 There were a couple of minor annoyances, however Native J'ouvert did acknowledge and apologize for them in a follow up email, which I thought was very good of them.  We'll definitely be back to Crop Over Barbados!
And then there was the Mount Gay Rum Tour.  Our tour guide, Tina, was amazing!  She had us all laughing from beginning to end.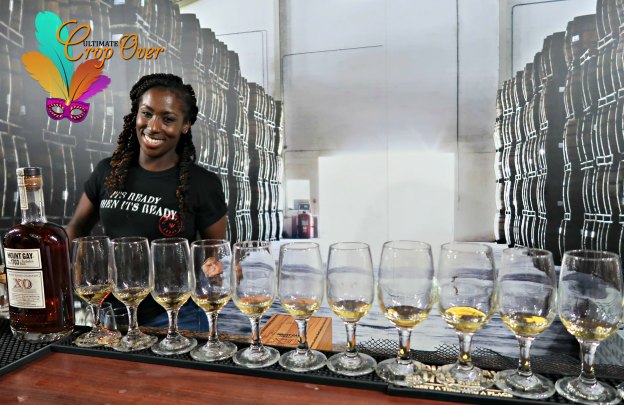 Plus, the tour started with rum punch, then had a rum tasting of 6 different rums and ended at the Mount Gay bar.  Add an impromptu parking lot jam and I'll say it was the best tour I've ever been on!  The tour's definitely staying on the list for the next Ultimate Crop Over.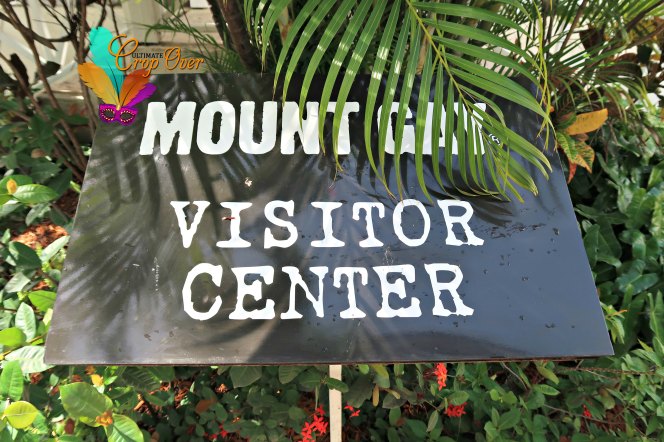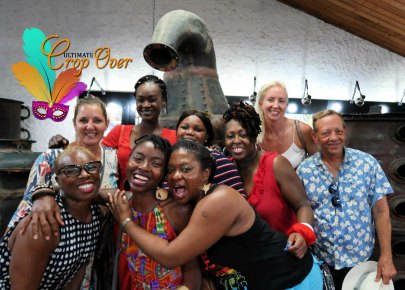 AND to top the rum tour off, we drove by Rihanna's home where she grew up in Barbados.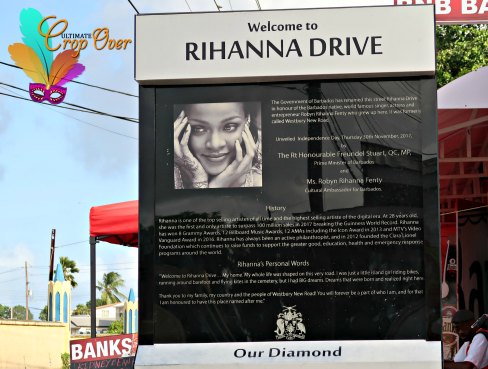 I'm gonna save "The Best" for last!
Update:
And…
We'll be getting back to Barbados in 2025.  However, we have Ultimate Spicemas!  We visited Grenada Carnival in 2022, had a blast and now you can come along with us in August 2024.  All you need to do is book your package and show up.  We'll handle everything else!  Click here to visit our website and see our packages.
Now over to you: Been to Crop Over in Barbados, de sweetest summer festival?  What did you like about your trip there?  Leave me a comment below!
Til de next lime,
Team Events by Ashé
About Events by Ashé:  Founded by Esha and Tarik Davis, Events by Ashé is a company that creates unique and life-changing Caribbean Carnival experiences.  We've helped professional women who just want to pack and show up, travel and enjoy it all. Visit our website for more info or click the links below to learn more!
You may also like: