Friday Facebook Live: Ultimate Trinidad Carnival 2022 launch!
Welcome to our blog Carnivalista Lifestyle.  Carnivalista Lifestyle is a blog about travel, food and of course, Carnival!  And today's Friday Facebook Live was about Ultimate Trinidad Carnival 2022.
Yeah, we're just a *little* excited.
To give you a little of background in case you didn't know, Trinidad Carnival 2021 was supposed to be our 10th year anniversary, but…well, Miss Rona had other plans.
We cancelled our group trip to Trinidad a few weeks ago, processed refunds or transfers for all of our clients (per their choice) and that was that.
About Ultimate Trinidad Carnival 2022 then…
So, looking forward to and being positive about what's to come, Ultimate Trinidad Carnival 2022 is now live on our website.
Want to learn more about it?  Watch the video below for more!
Next steps for Ultimate Trinidad Carnival 2022:
To find out more about our Ultimate Trinidad Carnival 2022 packages, click here.

Don't forget about the new addition to our 5-night Premium Experience, a meet and greet with a soca star!

If you're a travel agent and/or have a group of 10 or more who are interested in coming with us, contact us – click here.  You'll get some amazing incentives and $$$!
And if you're an Ultimate Insider (you know who you are), then check you inbox.  There's a sweet deal waiting for you for Ultimate Trinidad Carnival 2022!
Now over to you: have you been to Trinidad Carnival aka "the greatest show on Earth"?  Tell us below in the comments!
Til de next lime,
Esha and Tarik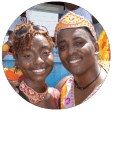 About Esha and Tarik:  Founders of Events by Ashé, a company that provides unique and life-changing Caribbean Experiences, Esha and Tarik are passionate about the Carnival lifestyle.  They even met during Trinidad Carnival back in 2006!  They are so passionate about Carnival that they created Ultimate Trinidad Carnival and Ultimate Crop Over to share these experiences with hundreds of clients around the world.  Click the links below to learn more!
Or call us at (919) 697-8772
You may also like: