Friday Facebook Live: what is the Barbados Crop Over festival?
Hello and thanks for stopping by!  It's your girl Esha here.  Welcome to our blog Carnivalista Lifestyle, our blog where we help busy, professional women discover new cultures, attract what they want, love themselves and be comfortable in their own skin.  Each week I do a Friday Facebook Live event and this week it was all about the Barbados Crop Over Festival.
Chances are, since you're on this page, you're probably wondering the same.  Give my video a watch below and then I'll have some more info for you.
Here's a little summary about what I talked about in the video:
What to do at the Barbados Crop Over Festival

Of course, Barbados Crop Over is a festival, so it's party time!
I really feel one of the unique partying experiences in Barbados are the boat rides as they're called in the Carnival community.  They are the best in Barbados.
Imagine great food, easy going people (no stush vibes), the best rum punch in de Caribbean all set to the back drop of the serene, beautiful Caribbean Sea?  That's a Barbados boat ride!
As I have mentioned before in previous blogs, I highly recommend the Limerz Cruise.  They not only have a boat ride, but they also added an on the beach after party last year and it was fabulous.
Also great is Ruk a Tuk, which is a bubbles and breakfast cruise.  I personally loved their presentation of a mini Johnnie walker bottle in a coconut!  As you drank from the coconut, the Johnnie Walker emptied into the coconut.
If boats aren't you thing, there are lots of great partying options.  DJ Private Ryan's Better in BIM and OneIsland Barbados' Jabnival, which is a J'ouvert party, are both fun fetes!

Where to stay during the Barbados Crop Over Festival

Since Barbados has one of the oldest tourism infrastructures in the Caribbean, there are many great accommodation options there!
A very popular is the St. Lawrence Gap area (aka The Gap).  There are several local hotels and villas there.
There are also lovely villas and hotels along the famed Gold coast of Barbados.  The Gold Coast is the west side of the island and the location of Ri Ri's mansion.  It's located in the Sandy Lane properties area.  If you have the money, then I highly recommend staying at Sandy Lane!
For our annual trip, Ultimate Crop Over, our accommodations provider is the Hilton Barbados Resort.  It's centrally located and one of the reasons we love staying there is because it's located between 2 white sand beaches.  The view is pure heaven!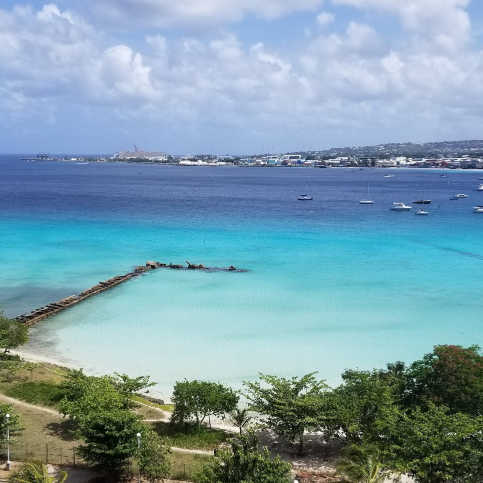 What to eat at the Barbados Crop Over Festival

This is my fave part!
There's so much good food in Barbados.  And I have 1 word for you – seafood.  There's so much good seafood.
And if you like seafood + people watching + great prices = then a visit to the fishing village of Oistins is for you.
The Friday fish fry during Crop Over is epic!
You also have to try Bajan fish cutters while you're there.  Not having fish cutters in Barbados is like not having doubles in Trinidad.
There are also many fine dining options on the island too.  Sandy Lane Resort also has a high tea if you really want to be bougie!
So, that's my recap of the Barbados Crop Over Festival.  I hope you enjoyed that!
If reading all of this makes you feel, "With everything that I have going on right now, how am I going to find the time to plan this trip?"  Don't worry; we got you.  Our Ultimate Crop Over experience has everything you need for a perfect Barbados Crop Over festival experience without you having to do any of the planning.  We handle everything from accommodations to your costume to day trips and transportation.  All you need to do is book your package, pack and show up at the airport!
To learn more, visit our website by clicking here.
Now over to you: What would you look forward to the most in Barbados? The parties, the accommodations or the food?  Leave me a comment below!
I appreciate you stopping by.  Stay well and be safe.
Til de next lime,
Esha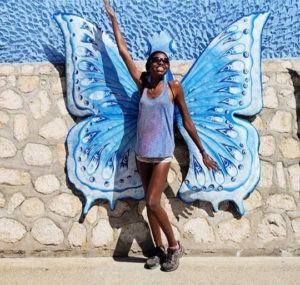 About Esha:  As an event planner and travel curator with over 20 years of experience (whose been to 5 out of the 7 continents), Esha's helped professional women who don't have the time, energy, or resources to plan their own vacations so they can travel and enjoy unique, life-changing Caribbean experiences. Click the links below to learn more!
You may also like: