Friday Facebook Live: it's Esha's birthday celebration!
Hello and thanks for stopping by!  It's your girl Esha here.  Welcome to our blog Carnivalista Lifestyle, where we help busy, professional women discover new cultures, attract what they want, love themselves and be comfortable in their own skin.  Today is my birthday (yep, Friday the 13th) AND it happened that my birthday celebration coincided with my Friday Facebook Live today.  Yay!
So, what did I talk about on my birthday?
Glad you asked.  I talked about my upcoming fundraiser and official online birthday celebration, Trinidad Carnival Stay-cay!  In regard to this event, I gave an update about our fundraising goal for the Heritage Children's Centre (hint: we're reeeally close).  Then, I got a lil philosophical (lol).
On every birthday, I usually take some time to reflect on the past year.  What did I learn about myself?  What did I accomplish?  How do I want things to go over the next year?  Watch the video below to find out!
Now over to you:
What have you learned about yourself over the past year?  Leave a comment below if you're willing to share.
And if you'd like to join me tomorrow to par-tay for a great cause, click here to register for the Trinidad Carnival Stay-cay birthday celebration!
Thanks for reading…
Til de next lime,
Esha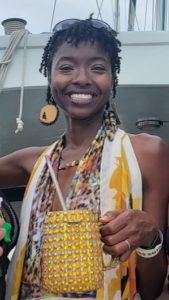 About Esha:  As an event planner and travel curator with over 20 years of experience (whose been to 5 out of the 7 continents), Esha's helped professional women who don't have the time, energy, or resources to plan their own vacations so they can travel and enjoy unique, life-changing Caribbean experiences. Click the links below to learn more!
You may also like: