Our travel list – the January edition
Happy 2021 to you!  On this 5th day of the new year, welcome to our blog, Carnivalista Lifestyle.  Today we're giving you our monthly travel list! As always, we have an events list with virtual events and in-person events that are on our radar.
Keep in mind all events on this travel list are in chronological order.  If you want to see our amazing in-person travel events, you'll need to read on to the end of the events list.
Here's what's on our events list:
Virtual Vibes
Throughout January and February 2021, join us for Virtual Vibes!  Virtual Vibes is your peek into what really goes into getting ready for to enjoy de greatest show on Earth – Trinidad Carnival.  Since we're unable to travel to Trinidad this year, we've decided to bring the vibes virtually!
There will be a series of events held including a Water Challenge, wining lessons (soca dancing), exercise challenges and a virtual party so we can have some fun!

Water Challenge: stay hydrated and accountable with our Water Challenge event!  We'll gradually ease you into adding more water to your daily routine.  Click here to join the event from Monday Jan 4 to Sunday Feb 14.
Virtual Vibes Party: happening on Saturday Feb 20 at 8:30 pm EST.  We're supposed to be in Trinidad, so leh we party like we are!  Dance along to sweet soca music with us; more details coming.  Planning a virtual party of your own?  Then you might want to use our virtual party planning service!  Click here for more details.
More info to come about upcoming events!  Be sure to follow our Ultimate Trinidad Carnival Facebook page to be notified about future events; click here.
Friday Facebook Live with Esha
Every Friday at 12:30 pm EST, join Esha on Facebook as she goes live to spread a little positivity through what we're all grappling with right now.
Like our Ultimate Trinidad Carnival Facebook page to get notified every Friday when she's live!  Click here to visit our Facebook page.
Here is our January schedule. 

Click each link to visit the event on Facebook:
Virtual Vision Board Experience
Join our friend Nefateria for her semi-annual Virtual Vision Board Experience.  If you've always wanted to create a vision board and weren't sure how to do it, then this fun and interactive workshop is for you!

Date: Tuesday Jan 12 at 6 pm EST

Grab the Business Bestie Bundle and save $25!  Click here to visit her events page (scroll down for live events).
Caribbean Cook Up Live!
Always a popular event on our events list, the January edition of Caribbean Cook Up Live! is all about Barbados.  Join us as we travel dream at this event!
You'll be provided with a recipe, ingredient list and be ready to cook the meal live with Esha and Chef Natasha on Zoom.
Date: Sunday Jan  24, 2021 at 1:30 pm EST
Register for this event today!  Click here for more details.
Ultimate Galentine's Day Party
2 events with wine, pleasure and fun!  Join us on Galentine's Day (Feb 13) as we celebrate the love and affection for the girls who make up our support system whether they are single or not.
We're partnering with Wines for Humanity and Bedroom Kandi to bring you 2 events on 1 epic night!
Ticket purchase includes:

Full access to the Wines for Humanity

 

National Wine Tasting

 

and the

 

Bedroom Kandi After Party.
A Wines for Humanity Sip Pack of three (3) full sized bottles of wine

 

delivered directly to you! Choose from white, red, sweet white, mild/sweet reds, sparkling and fortified wines. Includes tasting notes and pairings. Taxes, shipping and handling included.
Fun

 

Galentine's Day swag

 

for you to dress for the occasion.

Go to our Eventbrite page for more information and to purchase tickets!  2-for-1 special on until Jan 31.  Click here for more info.
Carnivalista In Love Program
Ultimate Crop Over 2021
Crop Over, aka Barbados' amazing Carnival, aka "de sweetest summer festival" on our events list can be yours without you doing any of the work!
Experience a taste of the good life with a fine dining experience, partying on the beautiful Caribbean Sea, being a VIP in full costume at the Kadooment Parade and getting dutty at Foreday Morning.
The bonus?  You don't have to plan any of it!  And…there are 6 rooms left!
5-night Premium Experience: travel dates of Thursday July 30 to Tuesday Aug 4, 2021
Easy Payment Plan is available from February to June 2021.  Plus if you book a Paid in Full Special, you'll get a FREE frontline costume upgrade and save 10% off your package and any other Upgrades.
Registration is happening right now!  Grab your spot before it's gone.
 Eat, Dance, Travel: Jamaica 2021
Join us in beautiful Jamaica to eat, dance and travel your way through this wonderful island.
Even if you've been there before, we guarantee you've never seen it like this!  We'll handle all of the coordination; you show up at the airport.
Travel dates of Thurs Oct 21 to Mon Oct 25, 2021
Grab our One Love Special to save 10% (limited quantities available) or take advantage of our Easy Payment Plan with just a $150 deposit.
Registration is now open, so add it to your events list!  Click here for all of the details.
Ultimate Trinidad Carnival 2022
The wait is over…Ultimate Trinidad Carnival 2022 has launched!  2022 will be the 10th annual Trinidad Carnival trip on our events list.
You've asked and we've included several upgrades fit your needs.  We've already sold 22% of our rooms too!
5-night Premium Experience dates of travel are Friday Feb 25 to Wed Mar 2, 2022.
Click here for more details on our website.
Let's go 2021!  Stay safe and well…
Til de next lime,
Esha and Tarik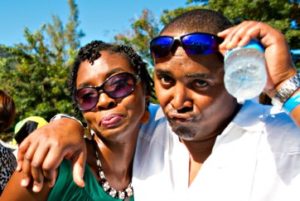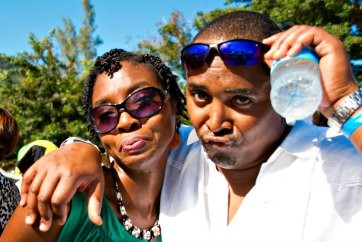 About Esha and Tarik:  Founders of Events by Ashé, a company that provides unique and life-changing Caribbean Experiences, Esha and Tarik are passionate about the Carnival lifestyle.  They even met during Trinidad Carnival back in 2006!  They are so passionate about Carnival that they created Ultimate Trinidad Carnival and Ultimate Crop Over to share these experiences with hundreds of clients around the world.  Click the links below to learn more!
You may also like: