Our travel list – the April edition
Welcome to our blog, Carnivalista Lifestyle.  And it's the beginning of the month (okay we're a little late) but here's our monthly travel list! You'll find a number of virtual and in-person events on this list.
We switched it up a little this month by adding a live event to the mix.  Check out the video below where Esha talks about 1 of our virtual events and 2 in-person, travel events that you need to get on your radar!
Here's what's on our list:
Friday Facebook Live with Esha
Ultimate Trinidad Carnival – live Q&A
Do you have Trinidad Carnival on your bucket list?  Then join us at our Ultimate Trinidad Carnival live Q&A.  No question is too big or too small!  Registration is required to attend via Zoom: click here.  Let's get Trinidad Carnival off your bucket list!
Caribbean Cook Up Live!
At the top of our Ultimate Insiders' Caribbean cooking wish list is oxtail!  So, we're granting their wishes this month by making this dish during the next Caribbean Cook Up.
Do yourself a favour.  Brighten up your day and have some delicious, homemade Caribbean food until you can fulfill your travel list!
Carnivalista Marketing Method
Ultimate Crop Over 2021
Ultimate Trinidad Carnival 2022
The Tobago Love Experience
Thanks as always for stopping by!
Til de next lime,
Esha and Tarik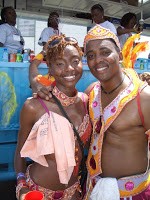 About Esha and Tarik:  Founders of Events by Ashé, a company that provides unique and life-changing Caribbean Experiences, Esha and Tarik are passionate about the Carnival lifestyle.  They even met during Trinidad Carnival back in 2006!  They are so passionate about Carnival that they created Ultimate Trinidad Carnival and Ultimate Crop Over to share these experiences with hundreds of clients around the world.  Visit their website by clicking here or click the links below to learn more!
You may also like: