2 Big Announcements | Trip to Grenada
Hello and come eeeeen!  It's your girl Esha here and welcome to our blog.  Carnivalista Lifestyle is a blog about travel, food, getting your life together and de Caribbean Carnival culture.  It feels good to be back and I have a couple of BIG announcements for you.  You'll especially want to watch my live video below if you're planning a trip to Grenada.
Check out the video below!
Here's what I talked about in de video:
In case you missed my live videos filmed while I was in Barbados, click here.
Announcement #1: August = Spice it up month!  Throughout August, I'll be sharing lots of information about de Spice Island of de Caribbean, Grenada (Spice it up; get it?)
Be sure to stay tuned for my Top 3 Reasons to Visit Grenada videos over the next few weeks.  If you're planning a trip to Grenada, then these videos are all for you!
Then, towards the end of the month, I'll be sharing some Grenadian inspired smoothie recipes with you.
You don't want to miss any of this spicy goodness!  If you're not on our mailing list, then click here to join so you don't miss anything.
Announcement #2: with any Ultimate Summer Carnival booking this month, you'll get your choice of 2 gifts.  Either get a Grenadian Spice Box OR 2 world famous, Grenadian organic chocolate bars!  Both of these gifts will support local farmers and craftswomen through the Cocoa Farming Future Initiative.  It's gifting with a purpose!  If you're thinking about a trip to Grenada, then you'll want to check out our Ultimate Summer Carnival packages.
Find out more about Ultimate Summer Carnival by clicking here.
Now over to you: Which gift would you choose, spices or chocolate?  Let me know in the comments below.
Thanks for reading and as always…
Til de next lime,
Esha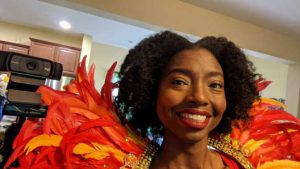 About Esha:  As an event planner and travel curator with over 20 years of experience (whose been to 5 out of the 7 continents), Esha's helped professional women who don't have the time, energy, or resources to plan their own vacations so they can travel and enjoy unique, life-changing Caribbean experiences.  You can visit her website for more information or click the links below to learn more!
You may also like: