#1 of the Top 3 things to experience in Grenada | Grenada Carnival
Come eeen, come eeen!  Welcome to our blog Carnivalista Lifestyle, a blog about travel, food, getting your life together and the Caribbean Carnival culture.  And if Grenada is on your travel list, then you're in the right place!  Check out the video below as we get into #1 of the Top 3 things to experience in Grenada (hint: in case you missed it in the title, it's Grenada Carnival).
#1 of the top 3 things to experience in Grenada
Spice it up with Spicemas a.k.a Grenada Carnival!
Jab Jab J'ouvert.  This is freedom in its truest form; dance through the streets with paint or molasses all over your body while having the time of your life!
Monday Night Mas.  Another unique Grenada Carnival experience is the spectacle of lights known as Monday Night Mas.  Light up the night sky as you take partying to another level.
With these 2 Grenada Carnival experiences happening on the Monday, we haven't even gotten to the Spicemas Parade yet 😉
If you'd like to find out more about travel to Grenada, including their current COVID-19 travel guidelines, visit the Pure Grenada website: click here.
Now over to you:
Which of these Grenada Carnival experiences would you like to do the most?  Get dutty as a Jab Jab at J'ouvert or light up the night sky at Monday Night Mas?  Tell us in the comments below!
*Update – Need more inspiration to touchdown at Spicemas?  Well, guess who just came back with some first-hand experience to share!  Check out all the oily details here!
Til de next lime,
Esha and Tarik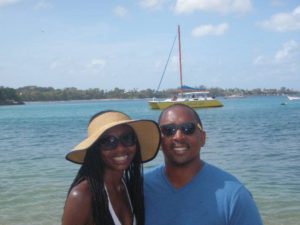 About Esha and Tarik:  Founders of Events by Ashé, a company that provides unique and life-changing Caribbean Experiences, Esha and Tarik are passionate about the Carnival lifestyle.  They even met during Trinidad Carnival back in 2006!  They are so passionate about Carnival that they created Ultimate Trinidad Carnival, Ultimate Summer Carnival and Ultimate Girls Getaways to share these experiences with hundreds of clients around the world.  Visit their website by clicking here or click the links below to learn more!
You may also like: