A Really BIG Announcement
Want to know what's new?  It's your girl Esha here and welcome to our blog.  Carnivalista Lifestyle is a blog about travel, food, getting your life together and de Caribbean Carnival culture.  I'm glad to be back live again with a BIG announcement.  Trust me, you want to watch the video below especially if you love shopping as much as I do!
Here's what I talked about in de video:
Our giveaway during the month of September is a VIP Shopping Experience in Barbados!  Get whisked away and taken to all of the unique shopping spots on the island.  You might need to buy another carry-on to fit everything (like a few of us did in August!)
Show and Tell: the leather bound fan I shared was from Asokeys Art Centre (@asokeysart).  You definitely want to save this profile for your next visit to Barbados!
There will be so much shared with you this month about Ultimate Girls Getaway 2022.  Join our live Q and A session on Sept. 21, click here to register.
Want to see the details about this amazing trip now?  Click here to visit our website.
Now over to you: Which of my show and tell items did you like the most?  The fan to hang on the wall, my (huge) beach/travel bag or my leather bound fan?  Leave me a comment below!
Have a great weekend!
Til de next lime,
Esha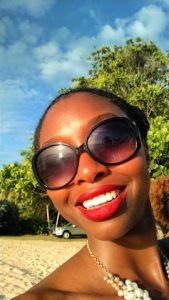 About Esha:  As an event planner and travel curator with over 20 years of experience (whose been to 5 out of the 7 continents), Esha's helped professional women who don't have the time, energy, or resources to plan their own vacations so they can travel and enjoy unique, life-changing Caribbean experiences.  You can visit her website for more information or click the links below to learn more!
You may also like: