Why Is It Important to Reconnect?
Come eeeeen, come eeeeeen!  It's your girl Esha here and welcome to our blog, Carnivalista Lifestyle.  It's a blog about travel, food, getting your life together and de Caribbean Carnival culture.  Today I got really personal and shared a disconnecting event that happened to me.  I also talked about the importance of reconnecting, so tek a watch below!
So, we've all felt the disconnecting loss of the pandemic right?
Yep.  We all felt the loss of something so many of us took for granted, a human connection. In this digital age where it seems everyone gets in touch and stays connected via social media, texts, and emails, the loss of seeing faces (especially smiles), giving and receiving hugs, and just a face-to-face conversation was taken away from us. Most of us have settled into virtual events and zoom happy hours to give at least some sense of normalcy but nothing replaces seeing your favorite people live and in person.
I personally miss connecting with my peeps at Trinidad Carnival!
So, as our future begins to look brighter and we started connecting in person again, we were quickly reminded how much that connection means to us. How important it is to blow off steam after a hectic day at work or to let your hair down and just be 100% completely yourself with people who celebrate you and all of your quirks.
Just being in the same room with your people changes everything. Not to mention how much fun you have with them! The laughs you share from your inside jokes, the fashion advice that only your BFF can give and just the expression on her face of "Girl, I got you", when you're going through a tough time means the world. This is something that (as good as technology is) no face time, text, or email can ever replicate.
So, if you're looking to reconnect…
And especially reconnect with your favorite girls without the interruptions from the kids, your bae, or work commitments, yuh have to join us at our exclusive Ultimate Girls Getaway in beautiful Barbados.
If you are looking to Reignite, Recharge and Reconnect this 5 day, 4-night exclusive trip to Barbados with your girls will leave you rested, renewed and ready to take on the world again!  And if you're doing this one solo, we got you.  We offer roommate matching or you can get your own room and just be with the group at our events.
Here is just a sneak peak of what you can expect:
Our Grown and Sexy Welcome Red Party
A Pretty in Pink Sunset Cruise
3 photoshoots including a beach shoot with one of Barbados' premiere photographers
A Barbados Reggae Festival Beach Party in a VIP cabana
Get pampered with a glorious spa day
If you're interested in joining our exclusive group in Barbados next spring, please click here for more details.
In the meantime, I would love to hear from you!  Who is the person you have missed hanging out with the most?  Leave me a comment below.
Stay well!
Til de next lime,
Esha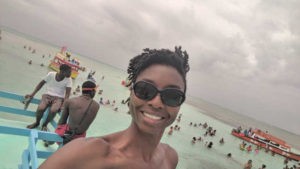 About Esha:  As an event planner and travel curator with over 20 years of experience (whose been to 5 out of the 7 continents), Esha's helped professional women who don't have the time, energy, or resources to plan their own vacations so they can travel and enjoy unique, life-changing Caribbean experiences.  You can visit her website for more information or click the links below to learn more!
You may also like: