Why A Girls Getaway?
It's your girl Esha here.  Thanks for visiting Carnivalista Lifestyle – our blog about travel, food, getting your life together and the Caribbean Carnival culture.  And today, I'm feeling a little introspective, especially thinking about girls getaways.
I don't know about you, but lately I have just felt a little disconnected. Once upon a time (a.k.a. pre-pandemic), I had it all together. I could easily balance all the roles in my life as a wife, mother, and entrepreneur. I have had each of these roles for many years now so knowing what to expect pretty much came second nature to me.
Then…
About 2 weeks after our Ultimate Trinidad Carnival Experience, March of 2020 came roaring in and turned everything on its head. All of a sudden, the most mundane tasks became brand new. Navigating my new normal in both family and business life has really taken a toll. I realized that I have spent the last 18 months pretty much just surviving. Less time has been spent on my hobbies. Things that brought me pure joy like traveling, sewing and hanging out with my girls were all pushed to the back burner for a while.
What began as fear about the unknown and the impact that the pandemic would have on our lives eventually gave way to just new ways to get stuff done. But the constant push and pull of life left less and less time for self-care and fun.
As with all things
As I personally begin to see the light at the end of the tunnel, lately my mind has started to shift out of survival mode and back into thriving mode. The first two things that came to mind when I began to think about thriving were (1) self-care and (2) reconnecting with my girlfriends.  And of course, I couldn't think of a better way to do this than to go to a beautiful and exotic destination!
Barbados has always been my happy place. With beautiful turquoise water, soft ocean breezes and free flowing rum punch, what more could a girl ask for? What started as a trip idea for me to reignite my passion, recharge my soul and reconnect to myself soon became the brainchild for our first Ultimate Girls Getaway.
If you are like me and looking to reignite, recharge and reconnect, then this 5 day/4 night exclusive trip to Barbados will leave you rested, renewed and ready to take on the world again.
Here's just a sneak peak of what you can expect at Ultimate Girls Getaway: the Preparing For Love Edition:
Grown and Sexy in Red Welcome Reception

A life-changing experience that will prepare you for love, no matter where you are on your journey
A Pretty in Pink Sunset Champagne Cruise

A Sunset Ceremony in White with joyful reflection and release of your "old self"

A private, interactive cooking class featuring local and delicious cuisine

Plus, 7 amazing bonuses for the first 6 women who register!
If you are interested in joining our exclusive group in the Turks and Caicos next spring, please click here to see our Ultimate Girls Getaway Packages.
Now over to you:
What are you most looking forward to doing again?  See you in de comments below!
Til de next lime,
Esha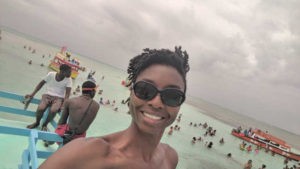 About Esha: As an event planner and travel curator with over 20 years of experience (whose been to 5 out of the 7 continents), Esha's helped professional women who don't have the time, energy, or resources to plan their own vacations so they can travel and enjoy unique, life-changing Caribbean experiences.  You can visit her website for more information or click the links below to learn more!