End of Year Travel Planning
Although it might seem (a little) premature to talk about end of year travel planning, when you watch the video below, it'll all make sense, I promise.
Come eeeen!  It's your girl Esha here and welcome to our blog.  Carnivalista Lifestyle is a blog about travel, food, getting your life together and de Caribbean Carnival culture.  In this video, I give you 3 tips to start your end of year travel planning.
Check it out below!
End of Year Travel Planning Tip #1:
If what's stopping you is time, then block your calendar and request your PTO/vacation time now.  Move your meetings, block your calendar so new meetings or new projects don't get heaped on you, request that PTO or vacation time – do it now!  Do it now even if you don't know where you're going.  You can always figure that out later (see tip #3).
End of Year Travel Planning Tip #2:
If your issue is money, book travel with a payment or layaway plan.  Many hotels only require a credit card to book your stay and there are many options out there that will offer a payment plan of some kind with a low deposit (including our trips)!  We even offer payment plans on your flight as well.
Don't let money stop you from taking your vacation.  Travel planning is like a muscule.  Start small and then go for the bigger dream trips.
End of Year Travel Planning Tip #3:
If you can't decide where to go, just pick a place, any place.  The point of this tip is not to get stuck in analysis paralysis a.k.a. never making a decision!  Pick just one place, do your research and get the facts about where you're going.
Don't allow your perception about a travel destination i.e. it'll be hard to travel there, I don't know the language, I can't travel by myself, etc. stop you from achieving your travel dreams!
What if all 3 of these things are stopping you from travel planning?
If you have especially lost your travel dreaming mojo, are worried about the money and need to learn how to maximize your PTO time, then stay tuned for our Travel Dreaming Challenge!  This will be a 3-day virtual event where we can all dream about travel again.
To be the first to join us in the next Travel Dreaming Challenge, join our mailing list; click here.
We also offer a complete travel planning service where we help you choose a destination and find you options within your budget (including flights)!  To find out how to get your own Travel Vision Consultation, click here.
Other tings:
My latest me made.  I purchased this fabric at JoAnn quite some time ago.  Here are some viscose jersey fabrics for you to check out; click here.  The pattern is the Tabitha tshirt from Tilly and the Buttons' book Make it Simple.  I'm finding that her patterns fit me really well with minor alternations (shoulder width and sleeve length).  I'll be making a tshirt dress next and will be making 2-3 more long sleeved tees to get me through the work-from-home winter.
Now over to you: Which travel planning tip has been the most helpful?  Let me know in the comments below!
Til de next lime,
Esha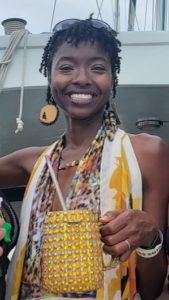 About Esha:  As an event planner and travel curator with over 20 years of experience (whose been to 5 out of the 7 continents), Esha's helped professional women who don't have the time, energy, or resources to plan their own vacations so they can travel and enjoy unique, life-changing Caribbean experiences.  You can visit her website for more information or click the links below to learn more!
You may also like: