The 1 Thing I Did To Attract The Love Of My Life
Hello to you!  Thanks for stopping by Carnivalista Lifestyle.  Carnivalista Lifestyle is our blog about travel, food, getting your life together and the Caribbean Carnival culture.  It's your girl Esha here and I talked all about love today!  More specifically, I revisited 2005 and detailed the 1 thing I did to attract love.
Tek a watch below to get your love life together, okay?
And in case you were wondering about that getaway I mentioned in the video…
Ultimate Girls Getaway 2022 – the Preparing for Love Edition
It's coming!  The Girls Getaway you've been waiting for that will help you prepare to attract love.  In the last quarter of 2022, join us in the Caribbean for a retreat – by black women, for black women – where you'll learn how to prepare for love on your terms, by being exactly who you are.
But the work doesn't start in November!  We'll start Pre-Retreat sessions in July.  You'll be with me for 4 exclusive Pre-Retreat sessions where I'll hold your hand through the process of resetting your thinking (which is the hardest part).
We only have 4 bonus spots left and prices will increase on June 1, so grab your spot today; click here for more info.
You won't want to miss this retreat – let's get you on de road to attract love!
Oh and about the FABULOUS earrings I wore in this video, be sure to follow Ibukun Designs on IG; click here.
Til de next lime,
Esha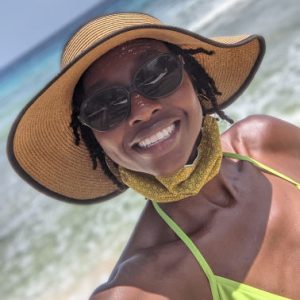 About Esha: As an event planner and travel curator with over 20 years of experience (whose been to 5 out of the 7 continents), Esha's helped professional women who don't have the time, energy, or resources to plan their own vacations so they can travel and enjoy unique, life-changing Caribbean experiences.
Visit her website by clicking here
or click the links below for more!