My Latest Costume Obsessions (Finally!)
Thanks stopping by! It's yuh girl Esha here and welcome to Carnivalista Lifestyle, a blog all about travel, food, getting your life together and the Caribbean Carnival culture. And if you're like me, getting back to any Caribbean Carnival costume has been loooong overdue! I'm so excited to talk about my latest costume obsessions!
Get ready to be as excited as I am. Tek a watch below:
Here's what I talked about in de video:
#1 on the list of my costume obsessions is Oil Down with Vibe Mas.
As a proud Yuman for over 10 years (of course), #2 on my list is Risque and #3 on the list is Mint (my mom's personal fave). Check out Yuma's website here.
And if you want to join us in 2023…
Come to experience Trinidad Carnival with us! There are only 2 rooms left in our Ultimate Trinidad Carnival 2023 experience. Your beautiful Caribbean Carnival costume is included. Click here to grab your package today.
"De sweetest summer festival" is almost sold out too! Ultimate Crop Over 2023 has only 2 rooms left. To check out our packages, click here.
Now over to you:
What do you think about my costume obsessions? Leave me a comment below!
Remember, you deserve love, happiness and Carnival…
Til de next lime,
Esha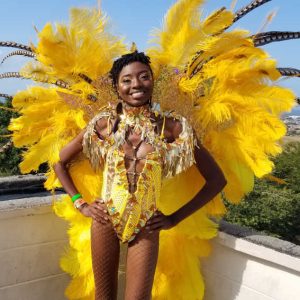 About Esha: As Travel Curator and Carnivalista in Chief of Events by Ashé, a company that provides unique and life-changing Caribbean Experiences, Esha is passionate about creating travel experiences for the busy, professional woman who doesn't have the time to plan her own vacations. Visit her website by clicking here or click the links below to learn more!
You may also like: