Ultimate Trinidad Carnival experience 2020 – part 3
It's your girl Esha here!  Although this blog is about my Trinidad Carnival experience, this week has been a bit of a struggle.  I have to be real.  I've been trying to stay positive, get over this little cold and slog through my seasonal allergies…
Sigh
But enough about me.  I hope you and your family are safe and well as we all work through this global pandemic.
The later part of this week has been on an upswing (thankfully) with the publishing of my podcast interview with Odofoley of O's Odyssey travel podcast (if you missed it, click here).  And now it's time for part 3 of my Ultimate Trinidad Carnival experience 2020 recap, which I'm very excited to write because it's giving me life right now!
So, what was the best of the Trinidad Carnival experience in 2020?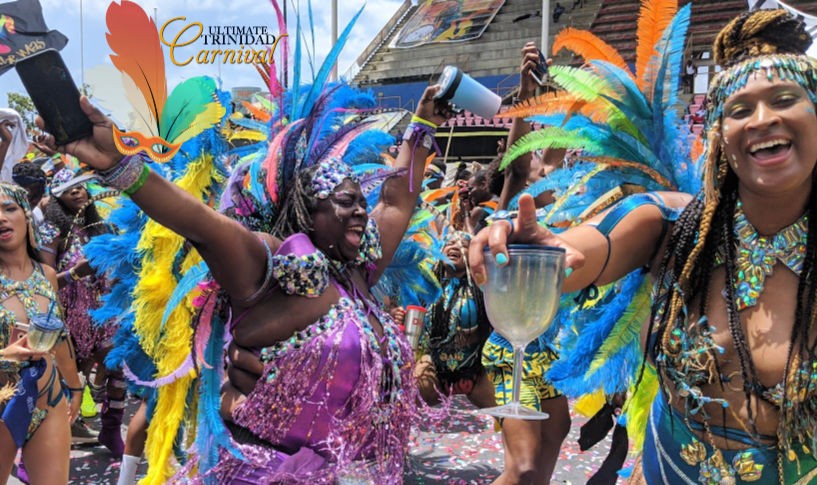 The best – Carnival Tuesday!
Lights, camera, action!  After all of the partying leading up to the Trinidad Carnival Parade, this year for me it truly felt like the climax.  In previous years, not so much.  Usually, the highlight for me of every Trinidad Carnival experience is J'ouvert, which is held on Carnival Monday.  But this year's Trinidad Carnival experience was different.
I was truly excited about my costume, so maybe that had a *little* something to do with it.  In case you missed my latest costume obsessions, click here.  My section was Pandemonium and it was definitely my fave out of all of Yuma's costumes.  It really felt good to have another costume to get as excited as I did last year with my Lemonade costume!  Check out the Ultimate Trinidad Carnival 2019 recap for more about that – click here.
Wanna come with me behind the scenes on Carnival Tuesday?  Okay.  So, I was awake and excited at 2:30 am.
Wait.
Yep, 2:30 am.  As part of Ultimate Trinidad Carnival, we provide Carnival makeup to our clients with our glam squad.  And to get Carnival makeup done for everyone AND meet Yuma's band on de road in time to cross the Socadrome stage, you have to start that early!
I was awake and showered in time to meet our glam squad who set up and got started doing makeup at 3:30 am.  Once my makeup was done, I started doing some work (because what else is there to do, lol) and made sure the clients were on time for their appointments to get glammed!
Around 6 am, I started getting dressed in my costume and touched up my makeup because it was time to have some breakfast.  Eating before heading out to meet the band in the hot sun is a must!  Then, once everyone's Carnival makeup was done, we met downstairs on the Hilton Trinidad's terrace for the photoshoot with our UTC Paparazzi!  Here's a quick video that I captured on the Hilton Trinidad terrace.
That was fun!  I'm smiling remembering all of the feathers, colours and our clients looking and feeling beautiful in their costumes.  Then myself and the other Ambassadors were tying and adjusting backpacks, armbands, leg bands and whatever else was needed to make sure the pics were perfect!  Then, it was off to the maxi (mini bus) to hit de road!
We easily found Yuma on their way to the Socadrome stage.  Once we were all off the maxi, backpacks and feathers were put on again.  Then, with the last checks and selfies (grin), it was time.  It was time to dance all of our worries away in the sunshine while it felt like the soca music pulsated in our souls!
This was one of the moments for me that was the best of my Trinidad Carnival experience.
Seeing all of our clients dancing, smiling and laughing; truly excited about being there.  In Trinidad, in costume, living their best lives, without a care in the world!  I still get goosebumps thinking about it.
Also, the best Trinidad Carnival experience for me was when we finally were unleashed onto the Socadrome stage!  We were lucky enough to have Kes and Iwer George perform on a couple of the trucks and on the stage with us while crossing.  OMG, it was so exciting!  Here's just a taste of the stage in one of the videos I caught.
See what I mean?
True bliss and euphoria, all wrapped up with bacchanal and revelry!  Here are a few photos of my fave moments I mentioned: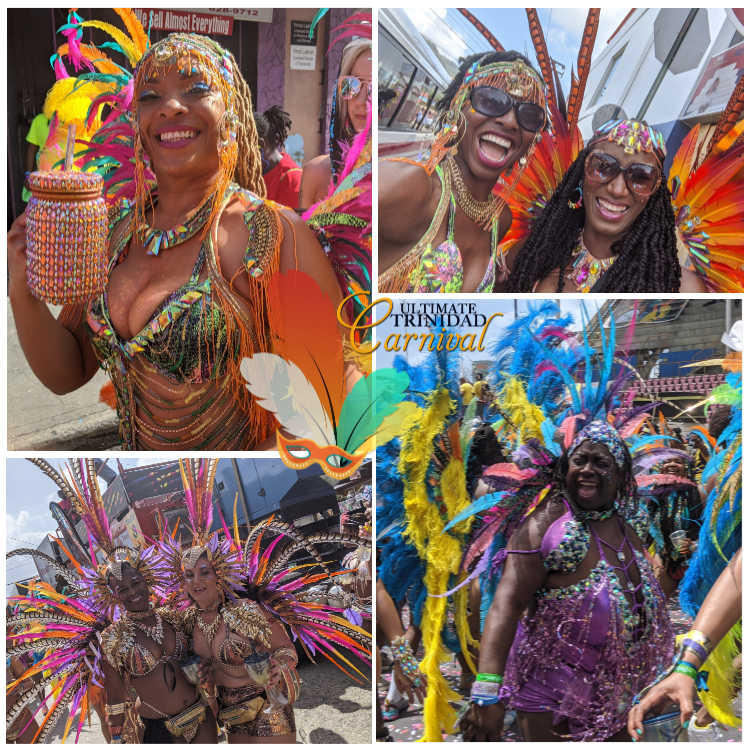 There's a song by DJ Private Ryan and Freetown Collective called "Feel the Love" and a few of the lyrics are:
"We are such a blessed tribe/ Sweeter than a million bees/ People live a thousand lives/ And never feel this free"
And it's true.  Imagine just over a month ago, before COVID, we were dancing and singing, jumping on a stage, with colour, life, energy, in full costume, having a ball without a care in the world.
That to me is true freedom and why Carnival Tuesday was the best of my Trinidad Carnival experience in 2020. Hope you enjoyed that! Want to have your own experience?
Sign up for this FREE event now to learn more!
3 Things to Know about Barbados Crop Over
Tues, Sep 19, 2023, 12:30PM – 1:00PM
Thanks as always fuh reading!
Til de next lime,
Your Events by Ashé Team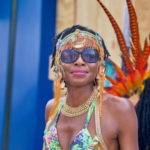 About Esha:  As a travel curator and event planner with over 20 years of experience (whose been to 5 out of the 7 continents), Esha's helped professional women who don't have the time, energy, or resources to plan their own vacations so they can travel and enjoy unique and life-changing Caribbean experiences. Visit our website or click the links below to learn more!
You may also like: