Trinidad Carnival Music 2023
It's time to start the new year right!?! We don't know about you, but when de new year reach, the one thing that makes us feel ready to set it off is new Trinidad Carnival music. And in case you didn't know, the only music played during Trinidad Carnival is SOCA. Yes, sweet soca music, a.k.a. de happiest music in de world!
Here are a few soca mixes that always signal the start of a new year for us:
DJ Jel's Soca Switch 2023
DJ Jel always brings de fyah! And this year's Soca Switch is no exception. Known for not playing the same soca tunes over and over again, with every listen, you're sure to hear a soca chune that will become your new fave!
Listen below:
You can find different ways to listen to Dj Jel's soca mixes (including Soundcloud and Apple podcast) here.
DJ Private Ryan's Soca Startr
Attention! The ever popular and talented DJ Private Ryan's Soca Startr (soca mix and fete) for many soca lovers is the signal of a new year. Listen carefully for the "Battalion Music" sound byte on his mixes, that means the soca song playing was created by him!
Here's the latest mix to get your Trinidad Carnival music fix:
Find out more about DJ Private Ryan, including other ways to access his mixes here.
Our own Ultimate Trinidad Carnival 2023 playlist
Of course, we have our own Trinidad Carnival music playlist to share with you! Our very own Ultimate Trinidad Carnival Ambassador, Grace, creates a playlist every single year. On her playlist you'll find lots of great soca mixes and a few individual tunes she's feeling.
Check our the playlist here.
A quick 2023 update:
If listening to all of this soca has got you itching to experience a Caribbean Carnival, then check out where we can take you in 2023 and 2024:
Ultimate Crop Over 2023 in Barbados: we've sold over 75% of our rooms, so you better move fast to join us in August. Click here to see package details and pricing.
For more information about Ultimate Bago Carnival in Tobago, click here. Tobago is one of our fave destinations and has recently been named the "most desirable island" in 2022!
And the one that started it all…Ultimate Trinidad Carnival 2024 is almost here! Package details will be available on our website soon, with registration starting on January 31. Visit our website for this amazing travel experience here.
Now, if you're saying to yourself, "Wait. What is a Caribbean Carnival?" and you have lots of questions, a good place to start is our Ultimate Guide of Getting to and Surviving Carnival, which will answer all of your questions plus, you'll get island destination profiles. Click here to get your FREE guide.
Now over to you:
What soca tunes are you feeling? Leave us a comment below!
Til de next lime,
Esha and Tarik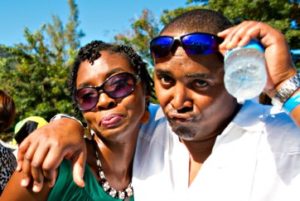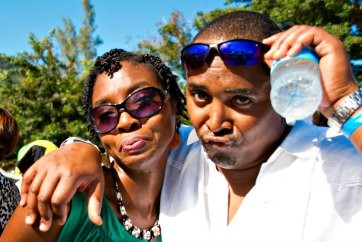 About Esha and Tarik: Founders of Events by Ashé, a company that provides unique and life-changing Caribbean Experiences, Esha and Tarik are passionate about the Carnival lifestyle. They even met during Trinidad Carnival back in 2006! They are so passionate about Carnival that they created Ultimate Trinidad Carnival and Ultimate Crop Over to share these experiences with hundreds of clients around the world. Visit their website by clicking here or click the links below to learn more!
You may also like: