Friday Facebook Live: the Trinidad Carnival foods I miss the most!
Happy Fri-yay!  Welcome to our blog Carnivalista Lifestyle, where we help busy, professional women discover new cultures, attract what they want, love themselves and be comfortable in their own skin.  It's your girl Esha here and today I took a trip down memory lane!  I talked about 2 Trinidad Carnival foods that I miss the most.
You may or may not have heard that Trinidad Carnival 2021 ewas cancelled, so I wasn't there for the first time in many moons to experience this amazing festival.  So Trinidad Carnival foods have definitely been on my mind all week!
Tune in below to see what Trinidad Carnival foods I'm missing:
Thanks for watching this video about Trinidad Carnival foods I'm missing!
Here's the full run down of sorely missed Trinidad Carnival foods:
#1  Doubles
This tops the list for us of Trini food to be consumed in large quantities during Carnival time. Doubles is a small bundle of uniquely wonderful deliciousness.
It's actually a beautiful, messy sandwich, with the "bread" being soft, fluffy, fried, curry flavored dough called bara.  The "filling" being a curried stew of chick peas (locally known as channa) made with mouthwatering spices.
Be sure to get "peppah" sauce if you can handle it spicy, or be a true Trini and order it with "slight peppah".
Some vendors will have tamarind sauce available for a little sweetness and the best vendors will have yummy cucumber chutney to add to the mix.
Since they're usually small, expect to eat 4-5 at a time to fill up.
Join me at the next Caribbean Cook Up to learn to make doubles for yourself!  Go to https://cookingclassesnearme.eventbrite.com for more info.
 #2 Roti
Mmmm roti…we love this Trini dish so much that we have it included in our privately catered dinner included in our Ultimate Trinidad Carnival Experience!
Trini style roti is traditionally served wrapped in a paratha roti skin (think a very thin crepe flavoured with ground dhal (yellow split peas)) and filled with the curry protein of your choice – chicken, beef, goat, shrimp or channa and potato.
During our privately catered dinner, everything is served a la carte style.  We also have a few additions on the side: curry pumpkin, bodi (string beans), buss up shot (thin paratha shredded without dhal inside), AND curry mango (our veterans live for this).
Join us at the next Caribbean Cook Up – learn to make Trini doubles!
#3 Corn soup
I mentioned this in the video above.  Corn soup is a religion for Trinis!
This Trini staple is a must have after any party (also called a fete by Trinis) you attend in Trinidad.
Corn soup is belly filling, soul warming soup starts with a dhal based broth.  It's then crammed full of pieces of corn, carrots, onions, potatoes and of course Trini style dumplings.
Can't get enough even after getting your fix at a fete? Get some more from a "corn soup man (or woman)" around the Savannah in the annual Carnival village.
#4 De sauces
Though not technically an "eat", Trini sauces reign supreme and are always on our mind to go with our fave Trinidad Carnival foods.
Some of our especially coveted sauces are:

(1) Garlic sauce – a creamy, white, garlicky concoction that is liberally poured on everything non-curried from French fries to grilled meats. There was even a song dedicated to this sauce.
(2) Tamarind sauce (pronounced tam-bran) – a brown sauce with the consistency of a light syrup, tamarind sauce adds a slight, tart and peppery sweetness to every dish.
(3) Trini ketchup – this one might seem strange to you, after all it's just ketchup, right? Wrong. Trini ketchup is different from the ketchup you know, trust us. It's slightly runnier and is definitely sweeter – and is delicious!
(4) Chadon beni sauce (pronounced shadow benny) – oooh, what can we say about this deliciousness! Chadon beni is a plant that's local to Trinidad (also known as Mexican cilantro). If you love cilantro, then you'll love this green sauce on everything! It's especially good on bake and shark (see below).
#5 Bake and shark
Last, but definitely not least, bake and shark is the must have dish when you go to Maracas beach.
Bake is a fluffy, thin fried bread and when it's sliced in half you put a fillet of fried shark meat on it.
THEN, you top it with whatever you like – cucumbers, lettuce, tomatoes, all of the sauces we mentioned above, pineapple (trust us) – the sky's the limit!
Okay I'm officially hungry!! I hope you enjoyed our little trip down food memory lane with me. You're guaranteed to get these eats when you travel with us during the Ultimate Trinidad Carnival Experience! Visit our website to learn more: click here.
Now over to you:
What Trinidad Carnival foods do you miss?  Leave me a comment below.
I appreciate you watching and reading!
Til de next lime,
Esha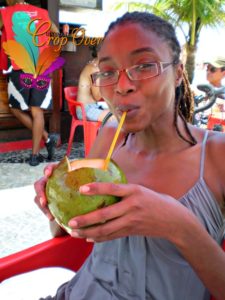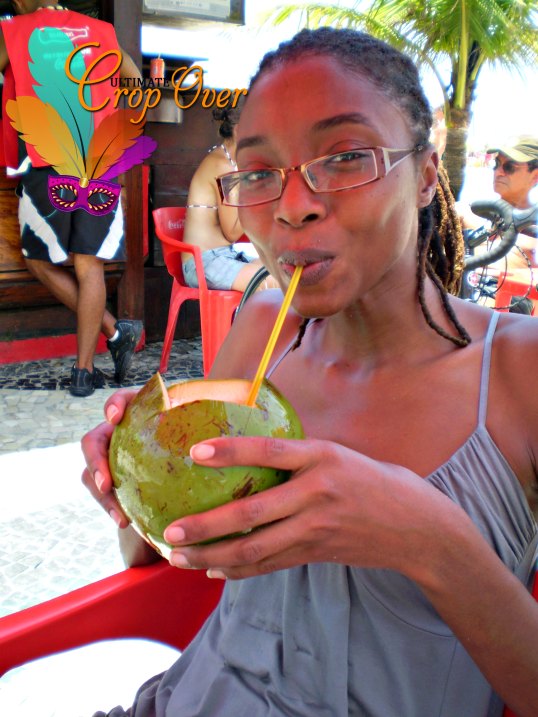 About Esha:  As an event planner and travel curator with over 20 years of experience (whose been to 5 out of the 7 continents), Esha's helped professional women who don't have the time, energy, or resources to plan their own vacations so they can travel and enjoy unique, life-changing Caribbean experiences. Visit our website or click the links below to learn more!
You may also like: