#2 and #3 of the top 10 things to experience during Trinidad Carnival
Welcome to our blog where we help busy, professional women discover new cultures, attract what they want, love themselves and be comfortable in their own skin.  It's your girl Esha here and I'm almost at #1 on our top 10 list!  And #2 and #3 are about playing mas and Trinidad Carnival costumes, respectively.
You might be wondering, "Well, why do both of these things have separate spots on the countdown?"  I personally think that both of these things are so key to the Trinidad Carnival experience, they deserve both spots!
Get started with #3 – Trinicad Carnival costumes – below:
Excited yet?
Wait.  There's more!  Now that you know more about Trinidad Carnival costumes, let's get to #2 of our top 10 things to experience during Trinidad Carnival, which is playing mas.  Playing mas is putting your costume on and dancing through the streets of Trinidad!  I explain it all below in this video:
And if that wasn't enough…
Check out this song, Waitin on de stage by Machel Montano.  I mentioned it in this video because I think it speaks to the mas experience!
Now over to you:
Have you ever played mas before?  Let me know in the comments below!
Don't miss #1 on the countdown up next.
And, get ready for our 2024 Ultimate Trinidad Carnival packages launching on January 31, 2023!
Til de next lime,
Esha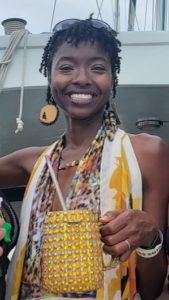 About Esha:  As an event planner and travel curator with over 20 years of experience (whose been to 5 out of the 7 continents), Esha's helped professional women who don't have the time, energy, or resources to plan their own vacations so they can travel and enjoy unique, life-changing Caribbean experiences. Visit our website or click the links below to learn more!
You may also like: