Our Travel List – the October Edition
Hi there!  Thank you for visiting Carnivalista Lifestyle.  This is our blog about travel, food, getting your life together (grin) and the Caribbean Carnival culture.  It's the last quarter of the year and as we do at the beginning of every single month, here's our travel list.  You're sure to find something to add to your trip list; check it out!
Please note, this list is chronological.  Our virtual events are towards the top and then you'll see our in-person trips.  You can scroll directly to the end for these.
Here's what's on our list:
Friday Facebook Live with Esha
Every Friday at 12:30 pm EST, join Esha on Facebook as she goes live to spread a little positivity, while talking about various topics like travel, food and the Caribbean Carnival culture.  You'll be sure to get some info to add to your vacation list!
To get a notification of when Esha's live every Friday, like our Ultimate Trinidad Carnival Facebook page to get notified.  Click here to visit and like our Facebook page.
Ultimate Girls Getaway 2022 Q and A
Barbados is ready fuh yuh!  Join us at our Ultimate Girls Getaway trip in April 2022.  This completely done-for-you solution features all-inclusive, beach front accommodations, exclusive events such as a Pretty in Pink sunset cruise plus lots more of opportunity to recharge, reignite your passion and reconnect!  And who doesn't need that on their trip list right now?  Join our next Q and A for more info.
Date: Sunday Oct 24, 2021
Time: 2:00 pm ET
Place: Via Zoom.  Registration is required so we can send you the link to join (and remind you so you don't forget!)
To register, click here
The Vision Board Experience
Chances are, your vision for 2020 (and hey, 2021) are not what you wanted.  This is all the more reason to get your 2022 vision in order.  If you think and believe it, it will happen!  What do you want out of 2022?  More money, a romantic relationship, more work-life balance?  It all starts with a real life vision board and you can join the Vision Board Experience in December to get you ready for the new year!
Date and time: Sat Dec 11 at 1 pm ET
Cost: $50 per person.
If you're an Ultimate Insider, you've received a coupon code for a discount, so use it!
Limited spots available and registration is required; click here to register today.
Ultimate Trinidad Carnival 2022
Our Ultimate Trinidad Carnival 2022 experience is postponed to 2023.  Although we're sad about this decision, we remain excited about getting back to this Trinidadian festival we all love safely.
Join our mailing list to be the first to know when our 2023 packages are ready!  Click here.
As with all of our planned group travel experiences, all you need to so is pack and show up.  See our video below for more!
The Tobago Love Experience
Our Tobago Love Experience 2022 is postponed to 2023.  Tobago remains one of our top destinations and we can't wait to get back there with you!
Join our mailing list to be the first to know when our 2023 packages are ready; click here.
The Ultimate Girls Getaway
Is Barbados on your trip list?  Trust us, it should be.  And lucky you, you can join us there in April 2022 at Ultimate Girls Getaway!  Grab your girls and leh we go!
Isn't it time you get the rest, relaxation and pampering that you deserve with ocean view accommodations?  We got you.  With the planning done for you, all you need to do is pack and show up.
Exclusive events include a Grown and Sexy Red Party, a Pretty in Pink Sunset Cruise, your own VIP cabana at a beach party plus so much more!
Plus, your extra special bonus for booking during the month of October is a VIP Shopping Experience with your BFF.
Travel dates of Tues Apr 26 to Sat Apr 30 with a 1-night Upgrade to Sun May 1, 2022.
Get your questions about Ultimate Girls Getaway answered at our next live Q and A session on Sun Oct. 24; click here to register for this event.
In case you can't wait until then, you can always check out our packages right now; click here to do that.
Ultimate Summer Carnival 2022
Our first Ultimate Summer Carnival stop will be on the Spice Island of Grenada.  Located just north of Trinidad and Tobago, you can experience a truly unique Caribbean Carnival at Grenada's Spicemas with us in 2022!
We're super excited about this travel experience.  You should be excited too because Grenada was recently voted a World  Culinary Capital!
Get beach front, all-inclusive accommodations, your Spicemas costume, access to the unique events J'ouvert and Monday Night Mas plus lots more.  Also, no need for any work on your end.  We do all of the planning and coordination for you!
Our 5-night Premium Experience is from Fri Aug 5 to Wed Aug 10, 2022.
You can register to join our next Q and A on Tues Nov 16.  Click here to register!
To find out more about our Ultimate Summer Carnival packages, click here.
Ultimate Summer Carnival 2023
 It's back to Barbados again in 2023 for our 2nd Ultimate Summer Carnival Experience…
Crop Over a.k.a. "de sweetest summer festival" will be epic!  Everything is coordinated and booked on your behalf from your accommodations to your costume to your ground transportation.
Book now and take advantage of an extended Easy Payment Plan 😉
Travel dates of Thurs Aug 3 – Tues Aug 8, 2023.
For package details, FAQs, Easy Payment Plan info and more, click here.
Hope you enjoyed our latest trip list.  Thanks as always for reading!
Til de next lime,
Esha and Tarik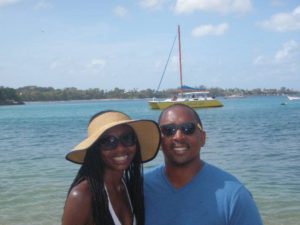 About Esha and Tarik:  Founders of Events by Ashé, a company that provides unique and life-changing Caribbean Experiences, Esha and Tarik are passionate about the Carnival lifestyle.  They even met during Trinidad Carnival back in 2006!  They are so passionate about Carnival that they created Ultimate Trinidad Carnival, Ultimate Summer Carnival and Ultimate Girls Getaways to share these experiences with hundreds of clients around the world.  Visit their website by clicking here!