How to Plan The Ultimate Girls Getaway – Part 2
Come eeeen!  I appreciate you for visiting Carnivalista Lifestyle, our blog about travel, food, getting your life together and the Caribbean Carnival culture.  It's your girl Esha here and part 2 of How to Plan the Ultimate Girlfriend Getaway is here!  The video below gives you 1 tip and there are 3 more for you below the video.
Enjoy de watch below:
Here are 3 more girls getaway tips, just for you!
Decide on a budget (in addition to what I mentioned in the video).  Now that you know who's going, what kind of trip it will be, and the potential dates, it's time to decide on a budget.  This is another highly important but overlooked aspect of vacation planning. Most people choose the destination first then try to figure out the budget.  That can be a waste of time and cause confusion in the group if the location doesn't line up with the girlfriend getaway's budget. So always decide on a budget first.

Why is the budget so important?  If given the option of a budget or bougie trip, bougie wins hands down every time in most groups! But causing financial stress and then adding the possibility of cancellations down the road is never a good idea so knowing your group's budget is essential.
Here are some tips for choosing a budget.

Find the balance between budget and bougie. Bougie travelers will find a way to upgrade every experience and budget travelers can be a part of the experience without breaking the bank.
Make the girlfriend getaway as all-inclusive as possible.  Try to include everything possible in their upfront investment. This will make planning easier and give the group the peace of mind that most things will be included with the price.
Find a travel agency that accepts monthly payments (like us!)  This will map out the cost for everyone and takes handling the money out of your hands. Making monthly payments for bigger trips makes the financial commitments much easier on the group and will lessen the chance that people will have to cancel later on.
Tip #2:
Choose a location!  Now that all of the girlfriend getaway logistics have been handled, now it's time for some fun.  So, where should you go?  While choosing a destination can be fun, there are some important things to keep in mind.
How long is your trip? Shorter trips should be to a destination that is easy to get in/out of. You don't want to waste a lot of your vacation time traveling.
Is everyone fully vaccinated? While getting vaccinated is a personal choice here in the U.S., every country and territory has its own vaccination and mask regulations. So, knowing the vaccination status of your group and the vaccination requirements of your potential trip destinations is absolutely essential to planning any girlfriend getaway now.
Is it high or low season where you want to go? Traveling during high season is more expensive and anything from hotel, rental cars, to even restaurant reservations may be hard to get. Traveling in the low season often is cheaper and much less crowded than usual, making it an ideal time to travel to a particular destination.
Finally, go back to the type of trip you are looking for. If sightseeing is important to the group, look for locales with a rich culture and amazing food. If sipping is more important be sure to look for a beautiful all inclusive resort with great drinks and awe inspiring scenery.
Tip #3:
Give them the WoW factor.  If you followed all of the steps up to this point, congratulations! You have planned an amazing girls getaway. You and your girls will have an amazing time and they will never even think that it could be better. Take that extra step and make this trip unforgettable. The final step to top off this amazing trip is to provide one wow factor.
For this step, think BIG!
Could it be a private hot air balloon ride at sunrise? Is it a photoshoot complete with hair and makeup? Maybe, even a boudoir shoot?  How about an exclusive snorkeling trip to a private island?  Or maybe a fancy 4 course dinner with an jaw dropping front row seat to a magical sunset?  Whatever it may be for your group, book it and keep it a surprise to the very end.
To find your WoW factor you may want to:

Enlist help.  Find a travel professional who knows your location
Book early
Don't be afraid to get off the beaten path (and TripAdvisor). Once it's a top 10 tour on TripAdvisor, the secret is already out. The key to the wow factor is to have a new experience together so, be bold and go outside of the box.
If you follow these simple steps you are sure to be on your way to the girls getaway of a lifetime with your favorite people.
As I mentioned in the video, the inspiration for this video came from YouTuber Rachel Talbott's Girls Weekend Getaway video.  This is part 2 of How To Plan the Ultimate Girls Getaway.  For part 1, click here.
Although the Girls Getaway I mentioned in de video has passed…
Get on our mailing list to find out about de next one; click here.
Appreciate you stopping by 😉
Til de next lime,
Esha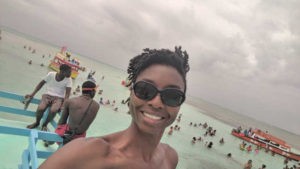 About Esha: As an event planner and travel curator with over 20 years of experience (whose been to 5 out of the 7 continents), Esha's helped professional women who don't have the time, energy, or resources to plan their own vacations so they can travel and enjoy unique, life-changing Caribbean experiences.
Visit her website by clicking here
or click the links below for more!