Ultimate Summer Carnival 2022 Recap – Part 2
Hello to you! It's yuh girl Esha here and welcome to Carnivalista Lifestyle, a blog all about travel, food, getting your life together and the Caribbean Carnival culture. Looking for Grenada Carnival reviews? Then you're in the right place.
But first, if you missed Part 1, de good and de better of Grenada Carnival: click here
Enjoy de watch below…
De Best – Monday Night Mas
De Best was Monday Night Mas for a couple of reasons. It was a uniquely Grenada Carnival experience. That's one of the things I love about the Caribbean Carnival culture. Each island has it's own flavour! And Monday Night Mas didn't disappoint!
We played with the local band D'Junction and their Monday Night Mas theme was Gold Rush. The experience was drinks inclusive (tip: wear your provided t-shirt to get drinks!) and we got some really fun swag that was blinged and lit, including a light up cup. We also provided light up visors to our Ultimate Summer Carnival clients in their Survival Kits!
Here are some pics…
We loved staying at this property right on Tamarind Beach! Not only was it beautiful, but we kept running into many soca stars such as Voice, Lyrikal, de Jab Jab King Tallpree, Nadia Batson (Nadeeeeeyy!) and Problem is ah Problem – Problem Child. They were all absolutely wonderful and it was a real treat!
The other thing I personally loved about the Royalton Grenada was the service. I would highly recommend staying in a Diamond Club room (it's well worth the upgrade) especially because you get a butler. I was sold! All of their staff were fantastic and graciously kind.
So, as I like to do with all of my recaps, here are a few of my general observations of Grenada Spicemas:
Events during Grenada Carnival take Caribbean time to a new level! That means do not go to events at the stated start time. Arriving anywhere from 3-4 hours after whatever start time you are given will be good.
In regard to the Grenada Spicemas Parade, 2 things. Number 1, ensure that you know what number your band is in the parade. This is usually something to especially keep in mind with North American Carnivals, however since Spicemas bands follow 1 route, unlike Trinidad, you should keep this in mind. Number 2, check to see if your band provides shuttle service to meet the band. That way, you're not waiting around for your band to show up along the route.
I mentioned this is Part 1, Grenadian J'ouvert is like a big lime! It's very different from the more organized J'ouvert in Trinidad and Barbados. I didn't find it to be heavy jamming (partying); there was more chippin' and people watching! Not bad at all. It was fun; just different.
Joining de bacchanal?
Now over to you:
Have you been to Grenada Carnival? Leave me a comment below!
Remember, you deserve love, happiness and Carnival…
Til de next lime,
Esha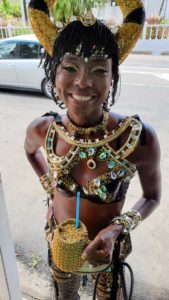 About Esha: As Travel Curator and Carnivalista in Chief of Events by Ashé, a company that provides unique and life-changing Caribbean Experiences, Esha is passionate about creating travel experiences for the busy, professional woman who doesn't have the time to plan her own vacations. Visit her website by clicking here or click the links below to learn more!
You may also like: