Our travel list – the June edition
Welcome to our blog, Carnivalista Lifestyle – your connection to travel, food and the Caribbean Carnival culture.  Welcome to June, also known as Caribbean Heritage Month!  Every month, we round up of monthly virtual and in-person events.  Use this list to add events to your virtual travel bucket list and then whenever you're ready travel for real, we have events you'll want to get on your radar!
Here's what's on our list:
Friday Facebook Live with Esha
Miami Carnival Q and A
Now that Miami Carnival 2021 is a go, join us on Tues June 8 for our Q and A session.  We'll share some information about this stateside Carnival, the costumes, accomodations and how you can secure your spot.  We will not be offering our Miami Carnival packages on our website.  If you're on our mailing list, package details will be shared with you via email and also via this Q and A. Here are the Q and A details:
Caribbean Cook Up Live!
The Caribbean Cook Up cooking classes will be on hold for the duration of the summer 2021.  The next edition will happen in September.  To find out more about the September class and to register, click here!
The Caribbean Virtual Travel Expo
This virtual conference, hosted by Travel Advisors Selling the Caribbean, will attract qualified travel advisors, travel enthusiasts, suppliers, travel media and influencers. It will provide them with valuable tools, techniques, information, and innovation, in an ever-competitive marketplace. Attendees will take a virtual deep dive into everything that the Caribbean has to offer, through a diverse program of activities that will provide tools, tips, tricks, and techniques, thereby paving the way to a sustainable path of growth and success.  If you're looking for destinations to add to your travel bucket list, then this is the event for you!
Here are the details about this event:
Virtual Carnival Extravaganza
We'll be a vendor at this event hosted by the Face Candy Studio Makeup Team – the Virtual Carnival Extravaganza.  You'll be able  to chat with carnival vendors, get familiar with their products and services, plus meet other carnival travelers and enthusiasts.
Activities include: Discussions about Carnival After Corona, Online Shopping, Games, Giveaways, Drinking, and Dancing and Listening to Soca.  And the best part….. we drinking 2-days straight! Bring your own booze (or have it delivered) and join in on the fun for our 12-HOUR VIRTUAL HAPPY HOUR X2.
Although it's happening in early July, we wanted to get this one on your virtual travel bucket list as early as possible!  Click here for more info.
Carnivalista Marketing Method
The Ultimate Girls Getaway
Ultimate Trinidad Carnival 2022
The Tobago Love Experience
Thanks as always for stopping by!
Til de next lime,
Esha and Tarik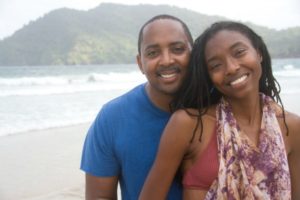 About Esha and Tarik:  Founders of Events by Ashé, a company that provides unique and life-changing Caribbean Experiences, Esha and Tarik are passionate about the Carnival lifestyle.  They even met during Trinidad Carnival back in 2006!  They are so passionate about Carnival that they created Ultimate Trinidad Carnival and Ultimate Crop Over to share these experiences with hundreds of clients around the world.  Visit their website by clicking here or click the links below to learn more!