6 of the 10 things to experience during Trinidad Carnival
Greetings!  Welcome to our blog, where we help busy, professional women discover new cultures, attract what they want, love themselves and be comfortable in their own skin.  And if you want to know more about Trinidad Carnival foods, then you're in the right place!  It's #6 on the list.
To recap
Here's what we've counted down so far in the top 10 things to experience during Trinidad Carnival:
And now we're on to the amazing Trinidad Carnival foods you can have when you travel there!
Check out this video for more:
Is your mouth watering yet?
You were warned!  Here are the links that were mentioned in the video:
Join us at the next Ultimate Trinidad Carnival – click here
So, you might be wondering where to go when you get to Trinidad to try these foods?  For doubles, Sauce doubles is boss.  If it's roti you want, then Patraj has been around for as long as I can remember.  For corn soup, you can go to Soup it up at Long Circular Mall or try any vendor around the Savannah.
Now over to you:
Which Trinidad Carnival foods would you like to try?  Leave us a comment below!
Join us at "de greatest show on Earth"!  Click here to see our Trinidad Carnival packages.
Til de next lime,
Esha and Tarik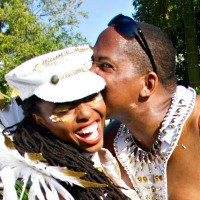 About Esha and Tarik:  Founders of Events by Ashé, a company that provides unique and life-changing Caribbean Experiences, Esha and Tarik are passionate about the Carnival lifestyle.  They even met during Trinidad Carnival back in 2006!  They are so passionate about Carnival that they created Ultimate Trinidad Carnival and Ultimate Crop Over to share these experiences with hundreds of clients around the world.  Visit their website by clicking here or click the links below to learn more!
You may also like: