#5 of the top 10 things to experience during Trinidad Carnival
It's your girl Esha here.  And welcome to our blog where we help busy, professional women discover new cultures, attract what they want, love themselves and be comfortable in their own skin.  Now I'm halfway through our countdown – #5 – and this one is all about de Trinidad Carnival fetes!
Get ready to start dancing in your chair.  Check out the video below:
#5 of the 10 things to experience during Trinidad Carnival
De (addictive) Trinidad Carnival fetes
So if you're grown, you think you've partied right?  Yuh think you've partied, been there, done that and can't possibly experience partying on another level.
Well, you're wrong.
I can guarantee that partying or "fêtein'" as it's called in Trinidad is unlike anything else that you've experienced in your life.  Even if you've attended a Trini style fête in North America or Europe, it's still not the same.
To give you a little bit of background, a Trinidad Carnival fête is a full scale, going all out event, like massive outdoor concerts, complete with visual overload, massive crowd energy, no personal space, and amazing live performances. Some even have water hoses and foam machines to give their patrons a unique partying experience.
When you attend a Trini fête, be prepared to "fête til yuh sweat" since the infectious soca music will be sure to get you moving – you'll be jumping, waving and wining all night long.
You're probably thinking, "Okay, so there's dancing? That's not a big deal."
Well, the Trini fête experience doesn't stop there. With the all-inclusive fêtes that we take our clients to during Ultimate Trinidad Carnival, you also get the open bar experience with all you can drink alcoholic and non-alcoholic drinks.  Plus, you get to eat all you can sample from the tents serving up all types of delicious food!
What??  Yup, eat and drink the night away while dancing to sweet soca music. How much better can it get than that?
Yes, it can get better.
Trinis have really taken the fête experience to the next level with many different types of fêtes. One of our favorites is the breakfast party. What's a breakfast party? It's a fête that happens in the morning, of course!
The breakfast party experience included in our packages has been rated the best fête by our clients every year.  It's called Sunny Side Up and starts with you waking up very early in the morning to get dressed to party. We'll whisk you away from the hotel to the party while it's still dark outside. As soon as you get there, you'll get your drinks cup. Hold on to this since you'll get your premium drinks in it for the rest of the morning.
In case you missed #7 on our list about what you can drink in Trinidad during Carnival time, click here.
Then, grab yourself some breakfast. Choose from a wide variety of favorites, both local and foreign to fill yuh belly while swaying to the sweet soca music blasting from the speakers. The sun is rising in the sky by now. Our clients always love partying while the sun is coming up; it's a completely unique experience!
Our breakfast fête experience always features live performances from the hottest soca artists. Once you have a few drinks, join the crowd to jump and wine the morning away. Don't party so hard that you forget to have dessert though!  The chococlate fountain awaits!
After it's all over…
Once your Trini fête experience is over, you might be like one of our clients walking around your home with a drinks cup tied around your neck (lol). You've been warned; Trini fêtes can be highly addictive!
Want to see more examples of Trini fêtes?  We love the song and accompanying video by soca artist Ricardo Dru called "Bet".  See Trini fêtes at its craziest below!
Ready to join us at a fête?  Mark your calendars because our Ultimate Trinidad Carnival 2024 packages launch on January 31!  Visit our website to take a look at our packages and pricing; click here.
Now over to you:
Ever been to a Trini fête?  Let me know in the comments below!
Til de next lime,
Esha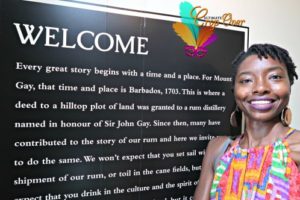 About Esha:  As an event planner and travel curator with over 20 years of experience (whose been to 5 out of the 7 continents), Esha's helped professional women who don't have the time, energy, or resources to plan their own vacations so they can travel and enjoy unique, life-changing Caribbean experiences. Visit our website or click the links below to learn more!
You may also like: